TL;DR
DAOs Explained by Vitalik Buterin
Recently, their is a lot of debate that high decentralized DAOs don't work. The argument is always similar, i.e., highly decentralized governance is inefficient, and traditional corporate governance structures with boards, CEOs and the like evolved over hundreds of years to optimize for the goal of making good decisions and delivering value to shareholders in a changing world. Here is the link to official post by him. Vitalik has explained that why and in which situations is Decentralization important.

Erigon 2022.09.03 Release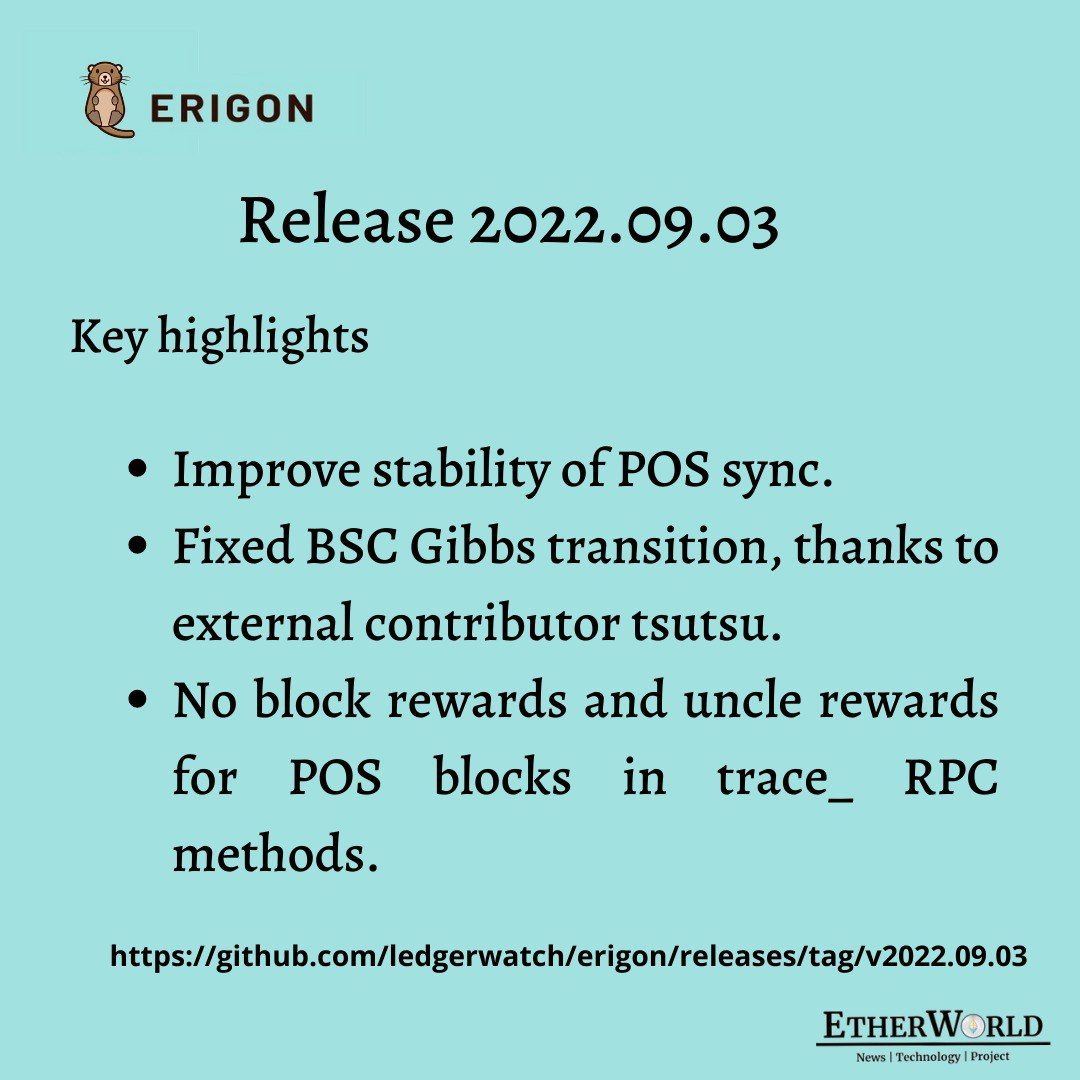 EIP-2982 finally moved to Final!
This EIP specifies Phase 0 of Serenity (eth2), a multi-phased upgrade to the consensus mechanism for Ethereum mainnet. In Phase 0, the existing PoW chain and mechanics are entirely unaffected, while a PoS chain – the beacon chain – is built in parallel to serve as the core of the upgraded consensus. In subsequent phases, the beacon chain is enhanced to support and secure the consensus of a number of parallel shard chains, ultimately incorporating current Ethereum mainnet as one of those shards.
EIP-2982: Serenity Phase 0 was finally moved to Final!https://t.co/F5AQMmpMfP

Took just over two years...

Fun fact, the Merge happened exactly 2 years after EIP-2982's publishing date

— dannyryan 🐼🔥 (@dannyryan) September 20, 2022
ENS x Coinbase
ENS has announced its collaboration with Coinbase with mission to make web3 more accessible. They have created a free-to-claim web3 cb.id usernames. Existing .eth addresses can connect existing names to seamlessly transact and build out their web3 digital identity.
Bankless MERGED Podcast
Ethereum is Finally merged to PoS. Checkout this latest Bankless Podcast on Ethereum Merge with Time Beiko & Danny Ran.
Read more
Read more about Ethereum in previous Bulletins - Ethereum Bulletin
Related Articles
______________________________________________________________________
Disclaimer: The information contained on this web page is for education purposes only. Readers are suggested to conduct their own research, review, analyze and verify the content before relying on them.
To publish press releases, project updates and guest posts with us, please email at contact@etherworld.co.
Subscribe to EtherWorld YouTube channel for ELI5 content.
Support us at Gitcoin
You've something to share with the blockchain community, join us on Discord!
---
---