TL;DR
Sepolia Testnet Merge is now on July 6th
In the ACD call #141, Time Beiko announced that Sepolia Testnet Merge is scheduled on ~July 6th. TTD will be shared on Monday. Here is quick docs by EW Team on Sepolia Testnet Merge.
Possible Path on Account Abstraction
A doc on a possible path to build Account Abstraction work with ERC-4337 and ERC-3074 if desired with more protocol-enshrined features to make abstraction the default over time was shared by Vitalik Buterin. Here is quick docs and a Twitter thread by EW team on Account Abstraction.
#VitalikButerin tweeted about a possible path to build #AccountAbstraction with ERC-4337

Here is a quick Twitter Thread 🧵 on what is #AccountAbstraction and why it is important? 👇

⚡Timeline of #AccountAbstraction Proposals⚡ pic.twitter.com/2NanDA0EbW

— EtherWorld (@ether_world) June 26, 2022
Alpha Version of New ENS App Released
There is high possibility of bugs and missing features in the alpha version of ENS App. ENS team has released alpha version mainly for two reasons:
To give the community a better glimpse into what's to come
To get as much feedback as we can on design and functionality, as we build in public.
ERC-721 & ERC-1155 Token Transfers added to Etherscan's Watchlist
To use this feature, simply:
Login to your Etherscan account
Head to https://etherscan.io/myaddress
Add a new Watch List address or edit a current one
In Other Options, select ERC-721 and/or ERC-1155
Click Save Changes
Check your email inbox!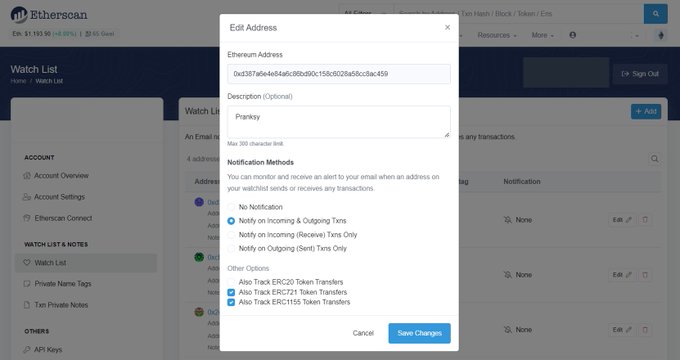 Coinbase Supports Deposit & Withdrawal on Polygon Mainnet
Coinbase has announced the support for deposit and withdrawal on Polygon mainnet. Now, users can send and receive to Polygon PoS directly with seamless user experience for using DApps on Polygon.
Polygon PoS becomes the first network to go live on Coinbase
Read more
Read more about Ethereum in previous Bulletins - Ethereum Bulletin
Related Articles
______________________________________________________________________
Disclaimer: The information contained on this web page is for education purposes only. Readers are suggested to conduct their own research, review, analyze and verify the content before relying on them.
To publish press releases, project updates and guest posts with us, please email at contact@etherworld.co.
Subscribe to EtherWorld YouTube channel for ELI5 content.
Support us at Gitcoin
You've something to share with the blockchain community, join us on Discord!
---
---