TL;DR
Kiln, Ropsten & Rinkeby Deprecation Announcement
The Kiln Merge testnet, launched earlier this year, will be shut down shortly after the Ethereum mainnet's transition to proof-of-stake. Ropsten, Ethereum's longest-lived proof-of-work testnet, has transitionned to proof-of-stake. It will be shut down in Q4 2022. Rinkeby, a geth-based proof-of-authority testnet, will not transition to proof-of-stake and will be shut down in Q2/Q3 2023. Here is a quick docs by EW team, if someone wishes to understand Ethereum Testnets after The Merge.
ProtocolGuild proposal up for a vote until Friday
The ProtocolGuild proposal is up for a mainnet vote until Friday. This is a proposal for the Uniswap community to support important Ethereum Public Goods through the Protocol Guild, i.e., a vested split contract which goes to 110 core protocol contributors.
500k UNI (~$2.5mm @ $5.19 UNI) be allocated to support the ongoing work of these core contributors in the initial Protocol Guild Pilot.
Applications EF Fellowship Program open now!
If you are a leader committed to a project that helps Ethereum become a tool of and for the next billion, whether it is a decentralized application, a community-building initiative, or a piece of research. EF Team is seeking a handful of changemakers that can help realize this dream, and inspire others along the way.
The 6-month, self-driven program is about finding and supporting unique and talented individuals who help to enable Ethereum's relevance and break down barriers to entry for those underrepresented people and communities that will become the future of web3.
Click here to apply now!
Deadline: July 17, 2022
KZG Ceremony Call #2 on June 23
KZG Ceremony Call #2 will be tomorrow, i.e., on June 23. Devs hope that this will be the largest setup ceremony by number of participants. KZG is a prerequisite for EIP-4844, which will significantly reduce L2 fees.
Here is the link if someone wishes to join this call.
Uniswap Universe Expanding!
Uniswap has acquired Genie, i.e., first NFT marketplace aggregator, expanding its products to include both ERC-20s and NFTs 🧞‍♂️.
Also, Anyone who has made more than one swap by April 15th on Genie or was holding the Genie Genesis NFT (✨ NOT the Genie Gem NFT ✨) on April 15th will be eligible for the Airdrop.
Here is the quick announcement video on Bankless with CEO and Founder of Uniswap, hayden.eth:
DuneCon 2022 Announced
This event will be taking place for the first time on September 15th, where hundreds of Dune Wizards and team members will descend on Funkhaus in Berlin for a day of learning, networking, and celebration of the community. There will be a great line-up of talks, workshops, and fun activities throughout the day. Here is a link, if someone wishes to apply.
Geth Full Sync Sneak Peek
Péter Szilágyi has shared a sneak peek of Geth Full Sync. Here is the screenshot shared by him.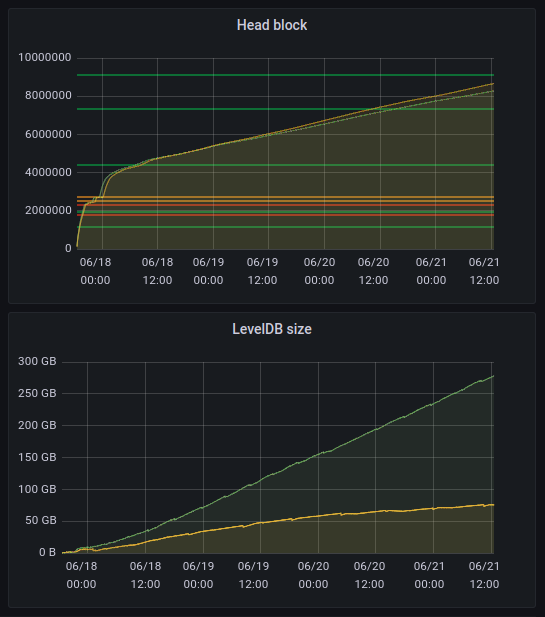 Read more
Read more about Ethereum in previous Bulletins - Ethereum Bulletin
Related Articles
______________________________________________________________________
Disclaimer: The information contained on this web page is for education purposes only. Readers are suggested to conduct their own research, review, analyze and verify the content before relying on them.
To publish press releases, project updates and guest posts with us, please email at contact@etherworld.co.
Subscribe to EtherWorld YouTube channel for ELI5 content.
Support us at Gitcoin
You've something to share with the blockchain community, join us on Discord!
---
---