Bitcoin Cash is a chain produced as a result of hardfork of Bitcoin on August 01,2017. All Bitcoin holders as of block 478558 are now owners of Bitcoin Cash. Following the whitepaper of Bitcoin, it claimed to be the real Bitcoin "Peer-to-Peer Electronic Cash". Merchants and users are empowered with low fees and reliable confirmations. Bitcoin Cash was so popular at times, that it even attained #2 position (by market capital), pushing Ethereum down for some time. The future shines brightly with unrestricted growth, global adoption, permissionless innovation, and decentralized development.
Summary of Bitcoin Cash HF
The Bitcoin Cash fork is on the verge of a hardfork, a protocol upgrade. In absense of consensus in Bitcoin Cash development team, the hardfork will occur on November 15, 2018 (epoch 1542300000) resulting in two Bitcoin Cash chains. Businesses and individuals who use the Bitcoin Cash network should check to ensure that their software is compatible with the upgrade.
Bitcoin Cash will execute an upgrade of the network consensus rules according to this specification. Starting from the next block these consensus rules changes will take effect:
Remove topological transaction order constraint, and enforce canonical transaction order
Enable OP_CHECKDATASIG and OP_CHECKDATASIGVERIFY opcodes
Enforce minimum transaction size
Enforce "push only" rule for scriptSig
Enforce "clean stack" rule
The following are not consensus changes, but are recommended changes for Bitcoin Cash implementations:
Automatic replay protection for future upgrade
Please follow detail specification on github
Market and price analysis
Following the news, Bitcoin Cash price pumped up to 10 % increasing market capital of about a Billion dollars.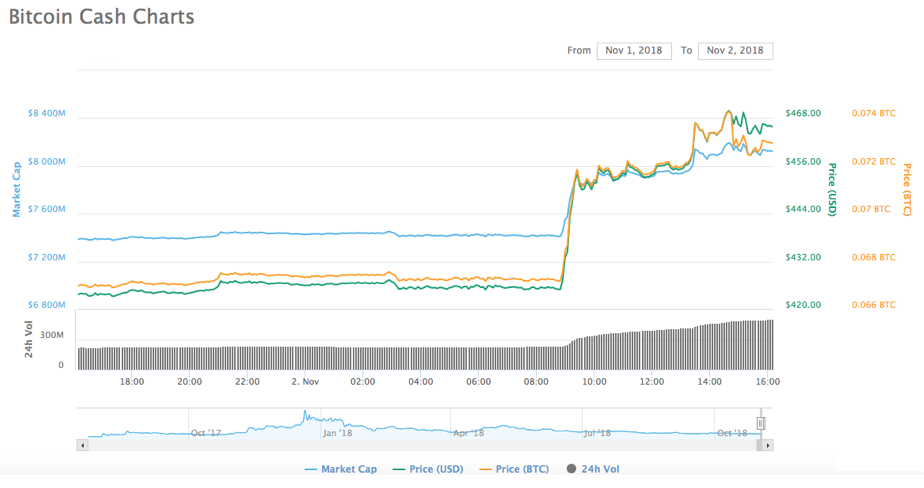 Binance support
Binance will support for the upcoming Bitcoin Cash hard fork, however Deposits and withdrawals of Bitcoin Cash will be suspended starting from 2018/11/15 3:00:00 PM (UTC). In the announcement, team advised users to leave sufficient time for deposits to be processed in full prior to this time. Binance will take a snapshot of all Bitcoin Cash balances at UNIX time 1542300000, 2018/11/15 4:40:00 PM (UTC). eparate announcement will be made after the snapshot is completed to notify users when deposits and withdrawals for Bitcoin Cash will reopen.
Bitcoin.com will support both chain
Bitcoin.com will continue running both Bitcoin ABC 18.2 and Bitcoin Unlimited 1.5.0.0 versions after the network-wide upgrade. that Bitcoin Cash Games and all Bitcoin.com services will operate as usual after the fork. The mining pool will mine on block templates provided by Bitcoin Unlimited 1.5.0.0 and Bitcoin ABC 18.2. All services on Bitcoin.com, including the Faucet, Cash Games and Mining Pool after the network upgrade will send out BCH originating from an output using OP_CHECKDATASIG.
Bitcoin.com Block Explorer will function normally with Bitcoin ABC 18.2.
Ledger will pause Bitcoin Cash services
Ledger, the popular hardware wallet has decided to suspend the Bitcoin Cash service until it is clear which of the two chains will be the stable one, both technically and economically. Users are advised that during this service disruption, your Bitcoin Cash private keys will remain secured. Further communication will be shared depending on the outcome of the fork.
Domino's Pizza with Bitcoin Cash
Remember the first ever real world transaction with cryptocurrency? It was buying PIZZA. On May 22, 2010 two pizzas were baught for 10,000 BTC.
Do you want to buy pizza with your Bitcoin Cash? Now you can do that with the Domino's Pizza gift card. Check out more.
Read other stories on Bitcoin Cash
____________________________________________________________________________________________________


Disclaimer: This is not an investment advice and should NOT be viewed as project endorsement by EtherWorld. Readers are suggested to do their research before investing into any project.

Follow us at Twitter, Facebook, Google+, Medium and Steemit.

____________________________________________________________________________________________________

---
---