Welcome to "Cryptocurrency Price Analysis". We are going to discuss top 10 cryptocurrencies (by Market Capitalization) and a few other making headlines of the week.
Let's have a quick look at stats.
Cryptocurrencies - 2089
Markets - 15564
Market Cap - $205,532,104,871
24h Vol - $11,094,087,787
BTC dominance - 54%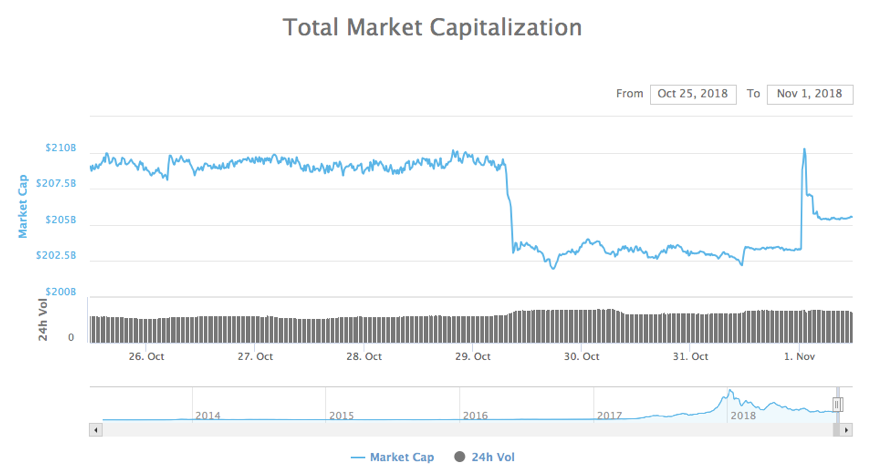 Market seems to have a better day today after Halloween. A spike is noticed to pull back after the loss of $6 Billion USD on October 29th. Well, couldn't recover completly, but at present cryptocurrency market is enjoying a little over $205 Billion dollars.
Top 10 Cryptocurrency (by Market Share)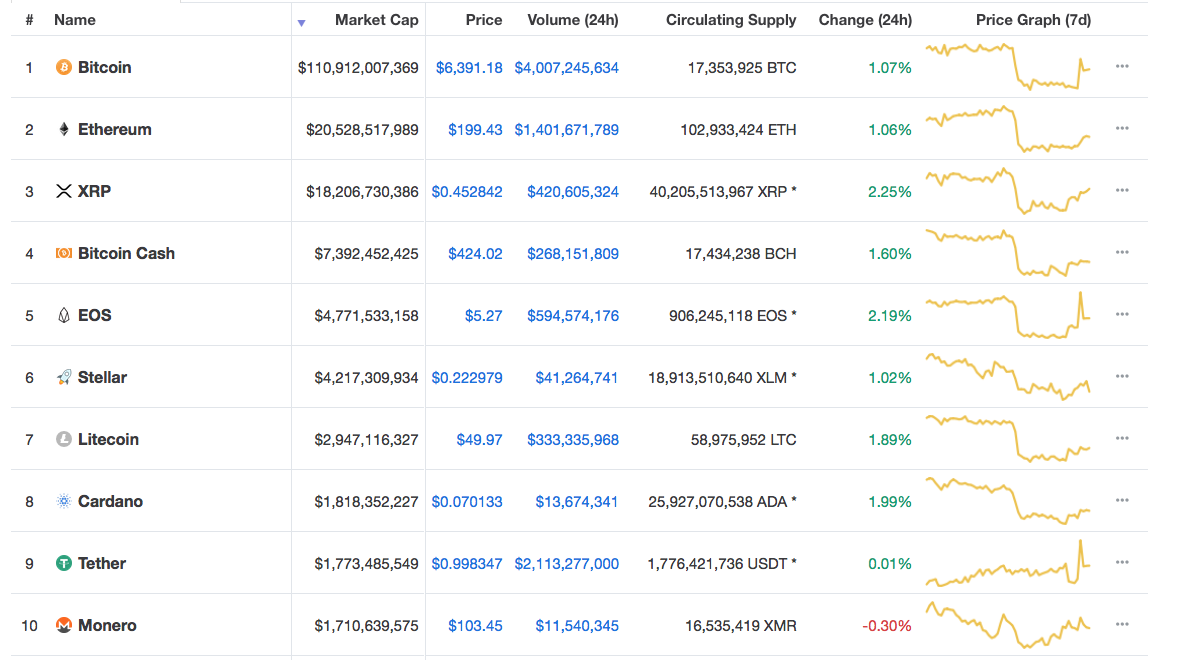 Source: CoinMarketCap on Nov 1, 2018.
Change in past 24hrs is green mostly, sign of recovery. I guess every trader wants to see this color the entire day especially for their portfolio :)
Cryptocurrency update
Bitcoin (BTC): Bitcoin celebrated it's 10th (White Paper) birthday yesterday. Read more about Bitcoin - A journey from white paper to $100 billion industry in 10 years.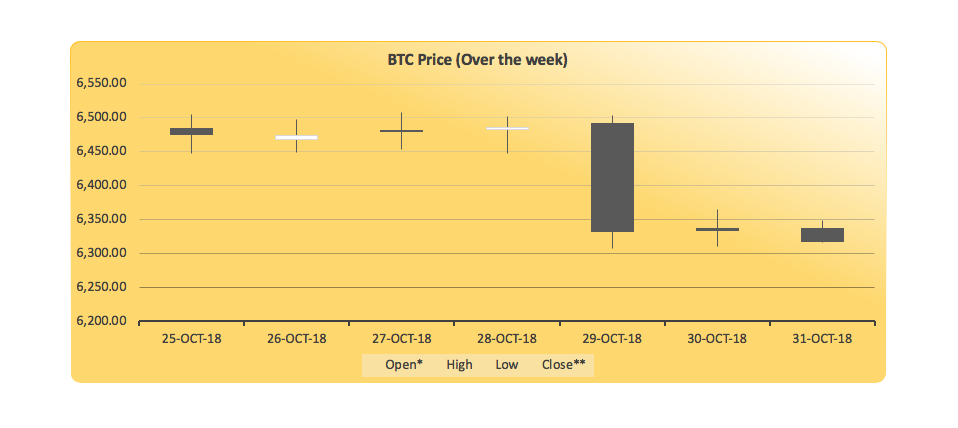 Like overall crypto market, last week wasn't so very good for BTC either. We can see the dip in price and market capital. However, BTC still has over 50% of the total market of cryptocurrency. Well the begining of new month is looking good. Market is recovering.
Ethereum (ETH): Most of the Ethereum developers are in Prague this week for Devcon4 - an annual meet up for ethereum and blockchain community developers to share updates so far and new developments. Tomorrow is the last day of the conference. We hope to have some good news coming our way that can also help boost the price.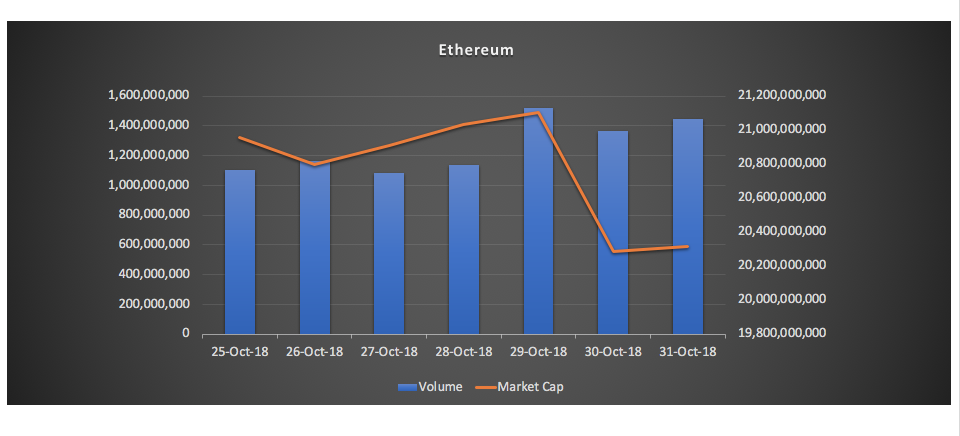 Like the market of the week, big dip and subsequent leap observed but that obviously is not enough. Highest Price recoded was $206.08 on October 27th and the lowest, obviously on October 29th @ $195.73. It shows a loss of over $600M USD from last week. Hope to have a better next week.
Ripple (XRP): Ripple released Q3 2018 XRP Markets Report this week.
According to the report, Ripple sells $163 million in XRP amidst rising volatility and volume in Q3 2018.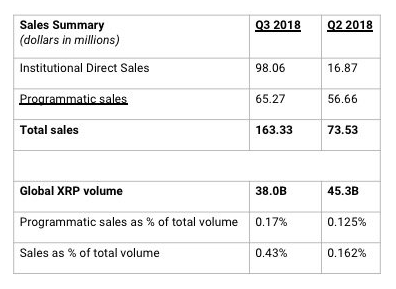 About the market, XRP is recovering with the market.
Bitcoin Cash (BCH): Unlike others, BCH tried to pull up yesterday and slipped; recorded the lowest of the week $411.52, but soon recovered.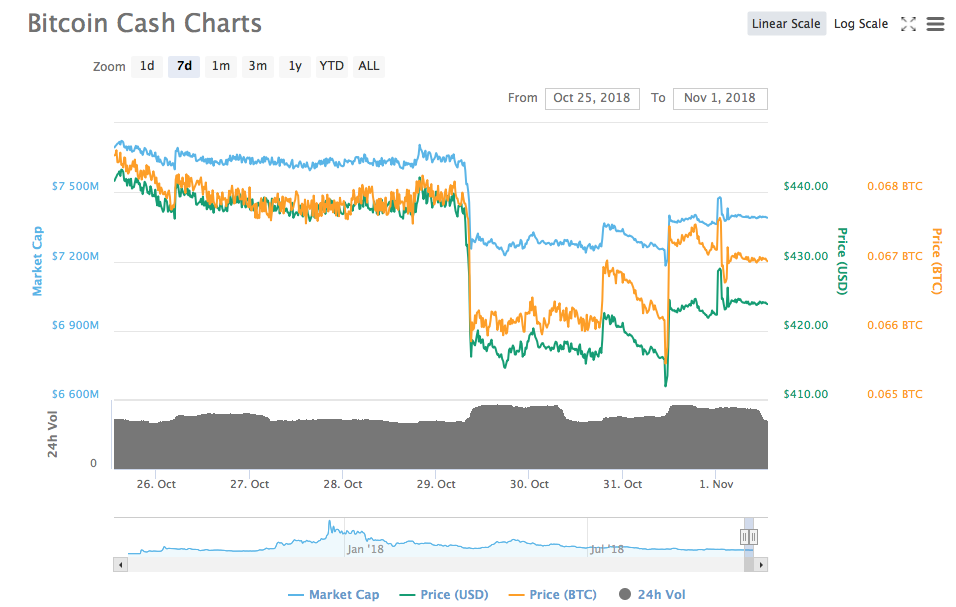 Tether (USDT) did well this week in comparison to the previous one where question to its exsistence was surfacing. Today they announced Banking Relationship with Deltec Bank & Trust Limited ("Deltec"), a 72-year-old financial institution with headquarters in the Commonwealth of The Bahamas. With the letter from Deltec Bank & Trust Limited dated November 1, 2018, it is reported that Tether is backed by US$1,831,322,828. No more fear dear users, USDT will survive.
Siacoin (SC) undergone hardfork yesterday to stop Bitmain to take over the mining. It is reported to be a success by the developers. Bittrex also added USD market for SC.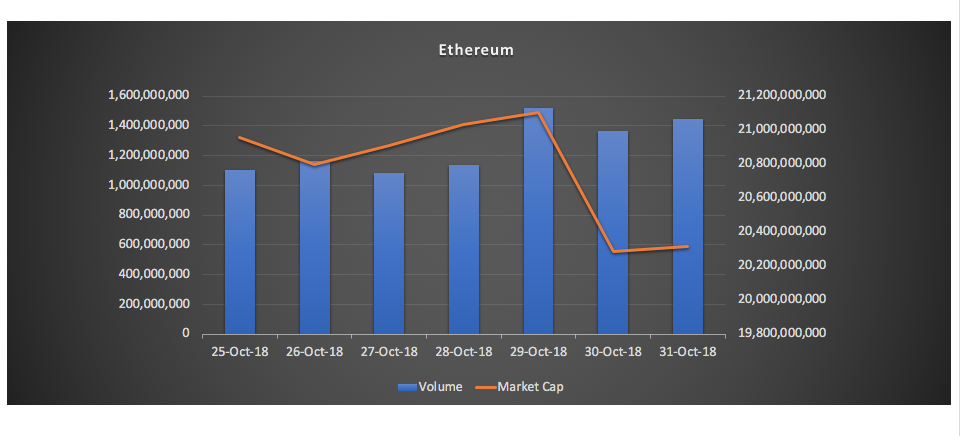 Market seems to be pretty consistent for Siacoin.
Hope you like this initiative of cryptocurrency analysis. Please leave your feedback / suggestions at contact@etherworld.co.
Note: We are using data of CoinMarketCap.com as reference.
Read more on similar topics:
____________________________________________________________________________________________________


Disclaimer: This is not an investment advice and should NOT be viewed as project endorsement by EtherWorld. Readers are suggested to do their research before investing into any project.

Follow us at Twitter, Facebook, Google+, Medium and Steemit.

____________________________________________________________________________________________________

---
---