TL;DR
Account abstraction: New version of ERC-4337 released!
Developers have added signature aggregation, and this implementation also includes BLS. Here is a complete guide on Account Abstraction by the EW team.
#VitalikButerin tweeted about a possible path to build #AccountAbstraction with ERC-4337

Here is a quick Twitter Thread 🧵 on what is #AccountAbstraction and why it is important? 👇

⚡Timeline of #AccountAbstraction Proposals⚡ pic.twitter.com/2NanDA0EbW

— EtherWorld (@ether_world) June 26, 2022
Rinkeby & Ropsten testnet Explorers Deprecated!
According to the official announcement from Etherscan, it will be deprecated on October 5th, 2022. Developers can migrate their contracts and deploy new ones on Goerli or Sepolia. Here is a quick guide on Ethereum Testnets after The Merge by the EW team.
Nethermind Release v1.14.3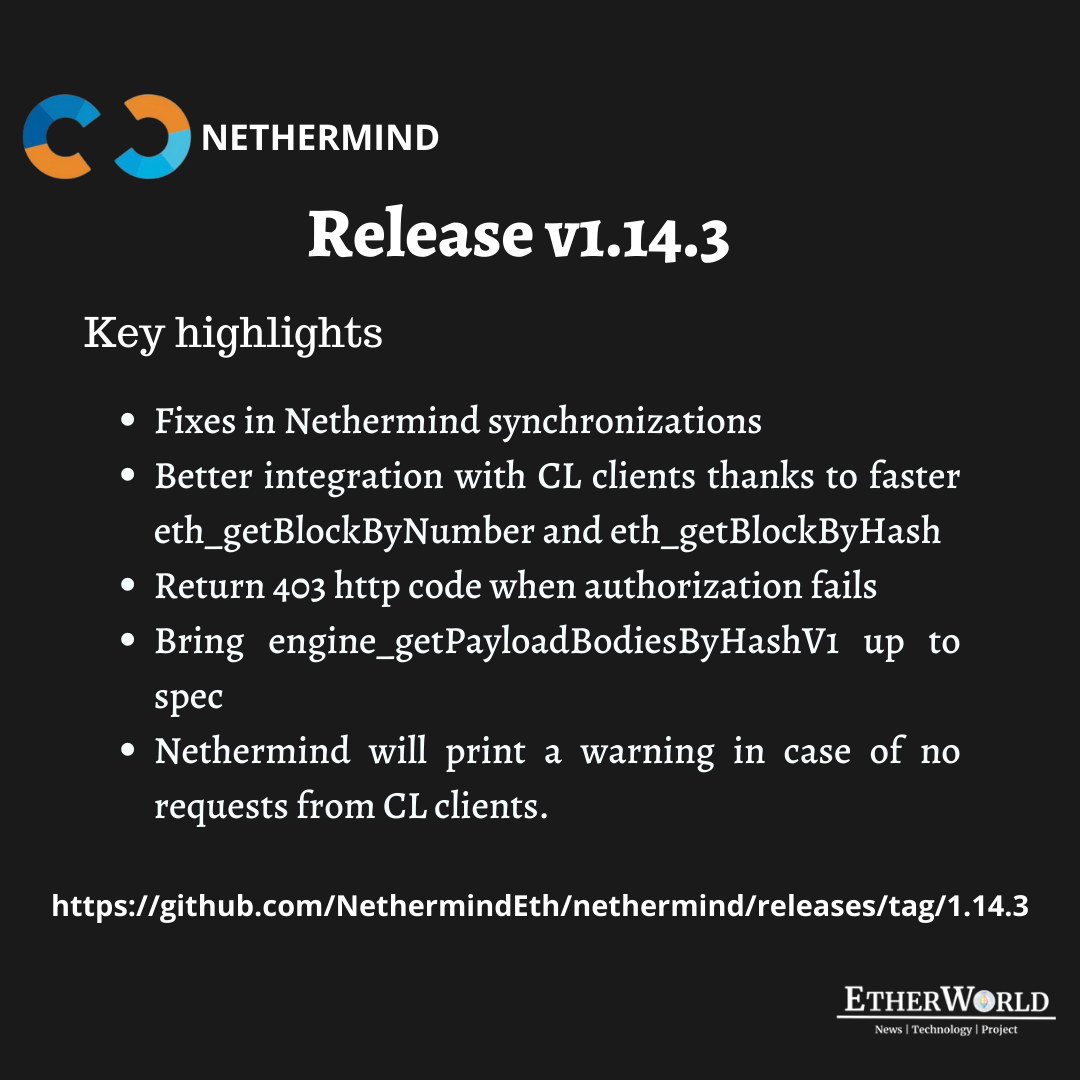 SEC Charges Kim Kardashian for Unlawfully Touting Crypto Security
The Securities and Exchange Commission today announced charges against Kim Kardashian for touting on social media a crypto asset security offered and sold by EthereumMax without disclosing the payment she received for the promotion. Kardashian agreed to settle the charges, pay $1.26 million in penalties, disgorgement, and interest, and cooperate with the Commission's ongoing investigation.
The SEC's order finds that Kardashian failed to disclose that she was paid $250,000 to publish a post on her Instagram account about EMAX tokens, the crypto asset security offered by EthereumMax. Kardashian's post contained a link to the EthereumMax website, which provided instructions for potential investors to purchase EMAX tokens.
GitPOAP available for Ethereum Project Management Repo
Eligibility Criteria: If a user has at least made one contribution to the Ethereum Project Management Repo in 2022. Here is the link to claim it.
Read more
Read more about Ethereum in previous Bulletins - Ethereum Bulletin
Related Videos
Related Articles
______________________________________________________________________
Disclaimer: The information contained on this web page is for education purposes only. Readers are suggested to conduct their own research, review, analyze and verify the content before relying on them.
To publish press releases, project updates and guest posts with us, please email at contact@etherworld.co.
Subscribe to EtherWorld YouTube channel for ELI5 content.
Support us at Gitcoin
You've something to share with the blockchain community, join us on Discord!
---
---