Vitalik Buterin, the co-founder & researcher at the Ethereum Foundation, shared the latest roadmap of Ethereum protocol development on Twitter. This is a thoughtful return gift by Vitalik to the Ethereum community on the first anniversary of the beacon chain launch .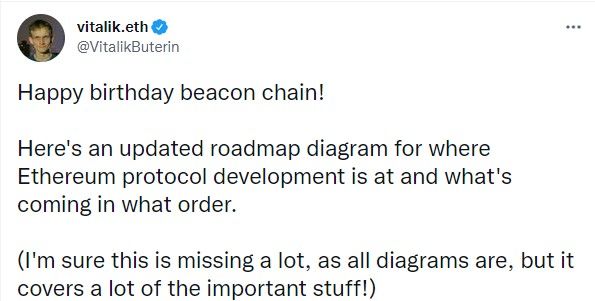 Ethereum Roadmap
According to the roadmap, The Merge is the next big milestone followed by The Surge, The Verge, The Plurge & The Splurge.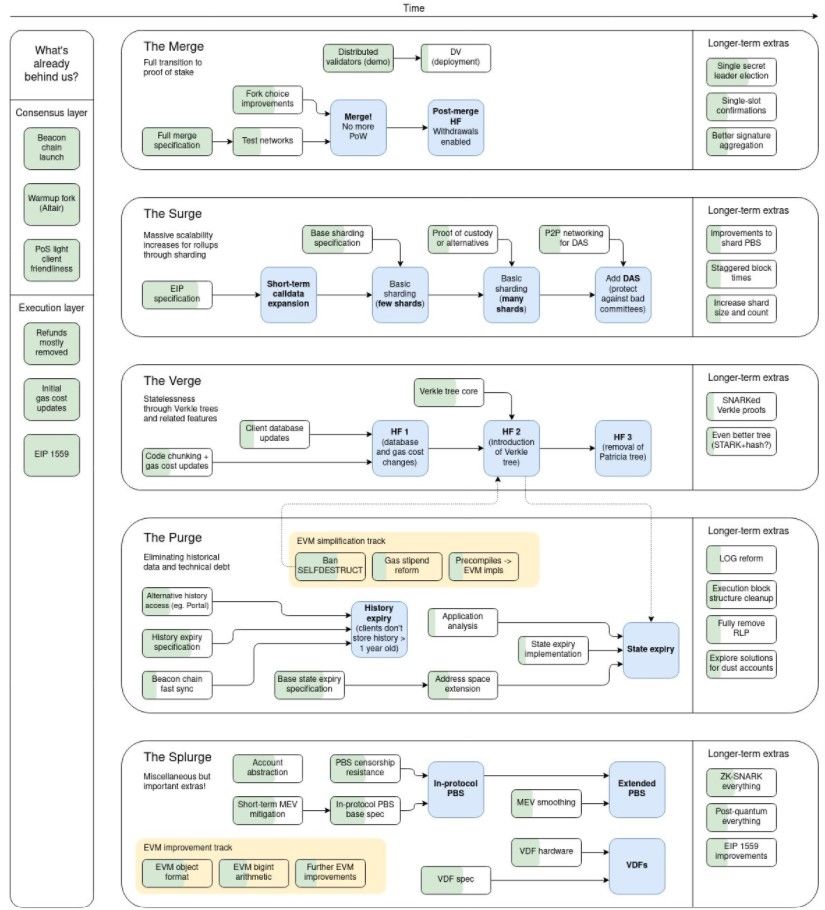 It is amazing to see how fast Ethereum is growing in terms of protocol. Not only the proof of stake chain is a year old but also have successfully deployed it's first network upgrade, Altair.
Arrow Glacier
On the other side, Ethereum's proof of work chain has already deployed two network upgrades - Berlin, London and getting prepared for the last upgrade of the year 2021, the Arrow Glacier.
The Arrow Glacier network upgrade will deploy EIP-4345: Difficulty Bomb Delay to June 2022. This will push the difficulty bomb on the Ethereum PoW chain till Summer next year. The community expects to have "The Merge" activated on the mainnet before June 2022. You may learn more about this upgrade in a blogpost by Ethereum Cat Herders, a decentralized project management group for Ethereum.
Upgrade your node!
Read more
Cover image: Kelly Sikkema
________________________________________________________
Disclaimer: The information contained on this web page is for education purpose only. Readers are suggested to conduct their own research, review, analyze and verify the content before relying on them.
To publish press releases, project updates and guest posts with us, please email at contact@etherworld.co.
Subscribe to EtherWorld YouTube channel for easy digestable content.
You've something to share with the blockchain community, join us on Discord!
Follow us at Twitter, Facebook, LinkedIn, Medium and Instagram.
---
---