It is now possible to trade cryptocurrency on Apple iOS. Lumi made it a reality for everyone to buy and sell crypto assets such as Ether (ETH) through Apple's popular payment service, Apple Pay.
Lumi wallet will allow users to buy and sell tokens using Apple Pay. The app allows its users to buy top cryptocurrencies like Bitcoin (BTC), Ether (ETH), USD Coin (USDC), Tether (USDT), Stably (USDS), Binance (BUSD), Wrapped Bitcoin (WBTC), Wrapped Ether (WETH), Yearn.finance (YFI), Uniswap (UNI), DAI, AAVE, Fundamental Consideration Token ((BA)T), Compound (COMP), Curve (CRV), Gemini Greenback (GUSD), HUSD, Chainlink (LINK), Maker (MKR), Paxos Commonplace Token (PAX), Synthetix (SNX), and Common Market Entry (UMA).
The service will be available for more than 60 countries including U.S., Canada, Germany, France, the U.K., Australia, Singapore, Brazil, Saudi Arabia and the United Arab Emirates. However Lumi's latest feature will currently remain unavailable in China, Taiwan, Macao, Vatican Metropolis, Ukraine, Montenegro, Monaco, Malta, Man of Isles, Jersey, Liechtenstein, Romania, Russia, Serbia and Kazakhstan.
Lumi became operational in the year 2017. It is a non-custodial and user-friendly blockchain wallet for Ethereum, Bitcoin, Bitcoin Cash, Tether, and other crypto tokens, coins and stable coins. It provides fixed exchange rates for more than 100+ pairs.
How to use Lumi Wallet for iOS
It is quite simple to use the new feature of Lumi Wallet on iOS screen. For existing users, no KYC is needed. A user just needs to click the 'BUY' option provided at the bottom of the screen. Enter the desired amount to be transacted and select Apple Pay as a payment option.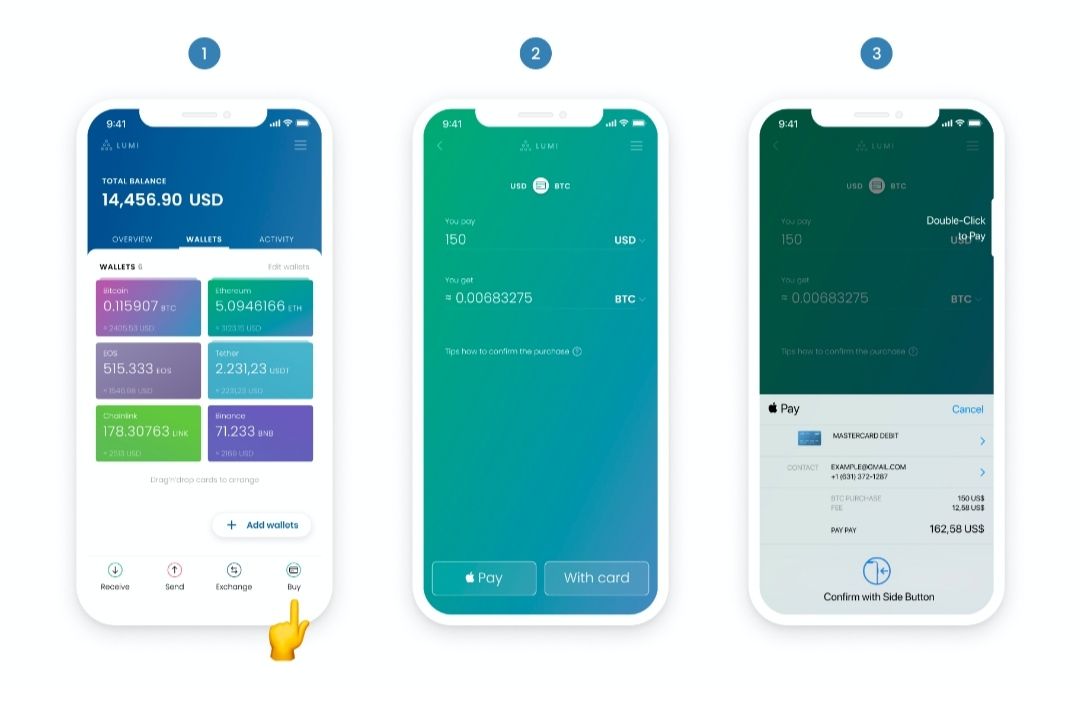 Daily limit
Lumi supports both debit and credit cards from Visa, MasterCard and Discover network payment processors. The payment limits for everyday and per week transactions are fixed. For the users in the US, the payment limit is set at $500 daily. Whereas for users other than US, payment limit is fixed at $1000 daily and $7,500 yearly.
Apple Pay is a secure way to make purchases in stores, in apps, and on the web using your Apple device. The app can be installed on both mobile device and Apple watch. Recently, the company announced its preparations to extend Apple Pay's services in Mexico.
In March this year, Opera became the first browser to introduce Web 3 capabilities and a built-in crypto wallet across its browsers. Opera Android users in the US were enabled to buy BTC and ETH using a debit card, also allowing iOS users to make payments through Apple Pay. In September, ConsenSys announced the availability of MetaMask Mobile on iOS and Android.
Famous payment gateway, PayPal announced feature for it's users to buy, hold and sell cryptocurrency from their PayPal account. The company is initially allowing to use Ethereum, Bitcoin, Bitcoin Cash and Litecoin directly within the PayPal wallet.
"Our team strives to develop the app as user-friendly as possible. Since there cannot be a universal solution for everyone, we are going the way of creating the interface of our wallet in such a way that users have the opportunity to choose the functions that they need. Adding Apple Pay as an alternative payment method to purchase crypto is one of the steps on this way," Diana Furman, CEO of Lumi Wallet, said in the release.
Enabling Apply Pay users to access cryptocurrency is a great move by Lumi wallet towards mainstream adoption of cryptocurrency exchange. With this Lumi will now be present on iOS, Android and web.
Similar Reads:
________________________________________________________
Disclaimer: The information contained on this web page does NOT constitute financial advice or a solicitation to buy or sell any cryptocurrency contract or securities of any type. Trading is a high-risk activity. Readers are suggested to conduct their own research, review, analyze and verify the content before relying on them.
To publish press releases, project updates and guest posts with us, please email at contact@etherworld.co.
You've something to share with the blockchain community, join us on Discord!
Follow us on Twitter, Facebook, LinkedIn, Medium and Instagram.
---
---