EtherDelta, a popular Ethereum based exchange is under attack. According to official tweet,
Dear users, we have reason to believe that there had been malicious attacks that temporarily gained access to @etherdelta http://EtherDelta.com DNS server. We are investigating this issue right now - in the meantime please DONOT use the current site.
What happened?
EtherDelta is an open source exhange and source code is available at Github. The centralized point DNS of EtherDelta has been attacked and it is redirecting to a malicious contract/address. Hacker has cloned the website and it isn't easy for a user to figure out if this is the actual website or a cloned one. Team figured the cloned website soon and issued warning on official twitter profile,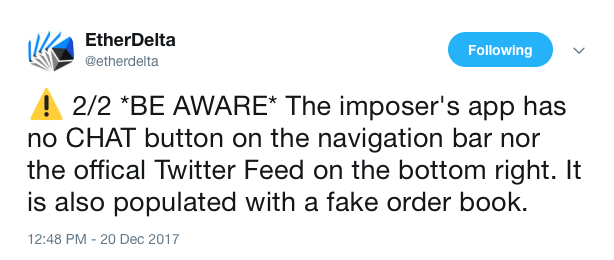 However, by that time people who had no idea, were using the bad address and funds were stolen.
Are the funds in my EtherDelta address safe?
Yes, if haven't used the malicious cloned website or have access the account using Metamask wallet, your funds in the contract are safe. It is advised not to access the website or the wallet till further notice.
The domain on EtherAddressLookup is temporarily blacklisted and MetaMask to help reduce the number of victims. More info on EtherDelta could be found at EtherDelta Guides for First Time Users.
According to a reddit comment thread, stolen funds are here: https://etherscan.io/address/0x3f8a37bde9b15b65c82f9cdd00192e0ba36cc5fc, and the thief sent Ether to other accounts; the transfers is made to BitTrex and HitBTC.
This is really unfortunate for the team and victims of the hack. Users are desparetly waiting for everything to be decentralized and trustless, including the DNS to avoid any such attack in future.
EtherDelta recently announced, an offical wechat customer service account for our Chinese users and new CEO @TerryLi74207813. Project is also planning EtherDelta Token TGE (on Feb 1, 2018).
Follow us at Twitter, Facebook, Google+, Steemit and Medium. For weekly newsletter, subscribe here. For publishing Press Release and free listing of ICO at our website, email at contact@etherworld.co.
---
---