Bitcoin Cash is soaring! With the announcement of Coinbase, adding support to Bitcoin Cash, the price of Bitcoin has jumped more than 44% taking it to a new all time high $3782 and an asset of more than $64 Billion.
In a blog, Coinbase announced ,
"We're excited to announce that customers will be able to buy, sell, send and receive Bitcoin Cash on Coinbase.
Sends and receives are available immediately. Buys and sells will be available to all customers once there is sufficient liquidity on GDAX. We anticipate that this will take a few hours."
Bitcoin Cash was created by a fork on August 1st, 2017. Initially, Coinbase wasn't supporting the Bitcoin UAHF fork. In contrast to their initial decision, Coinbase said, "We have been monitoring the Bitcoin Cash network over the last few months and have decided to enable full support including the ability to buy, sell, send and receive. Factors we considered include developer and community support, security, stability, market price and trading volume. You can learn more about Bitcoin Cash here." Now all customers who held a Bitcoin balance on Coinbase at the time of the fork will now see an equal balance of Bitcoin Cash available in their Coinbase account.
This is second big news for Bitcoin Cash in a week. On Dec 14, 2017; Blockchian, a popular Bitcoin wallet added support for Bitcoin Cash. Coinbase is a one of the biggest fiat to crypto exchange. It facilitate more new investors to buy BCH with fiat currency. Looks like BCH is getting support from big crypto houses. These announcement is not only increasing transaction on Bitcoin Cash blockchain but also its value is getting stronger against USD.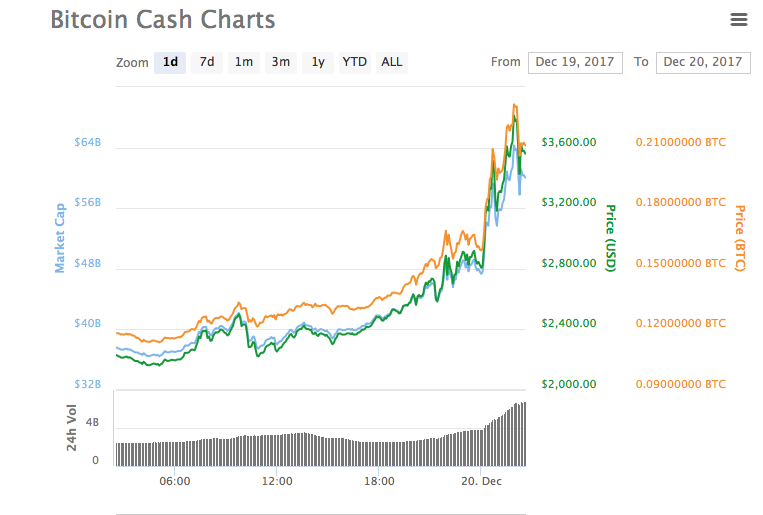 Source: Coinmarketcap
Coinbase CEO said in an interview that there is possibility of adding support to many new currency in 2018. BCH was considered to be in that list too. But announcing it today is kind of early new year gift for the community. It is rumored that insiders could have made big money with this added support by Coinbase. To clarify it's position, Coinbase published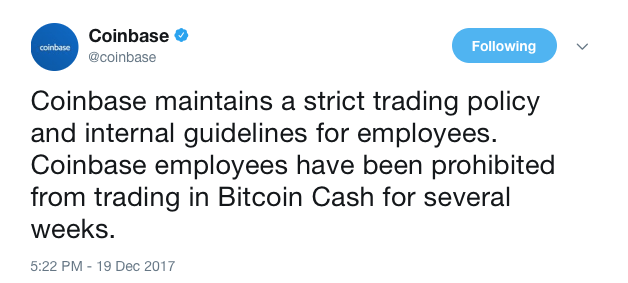 Well transparency is always good and appreciated, but where cryptocurrency is involved, regulation is a little difficult task to achieve. On the other side, the rival of Bitcoin Cash - Bitcoin is crashing. The lowest recorded today for BTC was $16390. Investors are pumping BCH, may be good for the BCH community but may not be for the cryptocurrency market. It increases volatility of the currency which is the biggest concern of the mainstream investors.
Also read: Bitcoin Cash Blockchain wallet, BCH Visa Debit card and ATM, price over $2000, increasing support to community
Disclaimer: This should NOT be viewed as an investment advice by EtherWorld. Readers are requested to do their own research before investing into any project.
Follow us at Twitter, Facebook, Google+, Steemit and Medium. For weekly newsletter, subscribe here. For publishing Press Release and free listing of ICO at our website, email at contact@etherworld.co.
---
---