Ripple escrowed 55 billion
According to team Ripple, in order to build XRP liquidity and continued decentralization of its ledger, they're engaged in distribution strategies to strengthen XRP exchange rate against other currencies. As promised earlier, they completed the lockup to place 55 billion XRP in a cryptographically-secured escrow account. By securing the lion's share of XRP, investors can mathematically verify the maximum supply of XRP that can enter the market.
Earlier this year, considering concerns in the market about uncertainty surrounding on ongoing XRP distribution, the team decided to place 55 billion XRP into a cryptographically-secured escrow account by the end of 2017. In an announcement on May 16 2017, Ripple said, "We'll use Escrow to establish 55 contracts of 1 billion XRP each that will expire on the first day of every month from months 0 to 54. As each contract expires, the XRP will become available for Ripple's use. You can expect us to continue to use XRP for incentives to market makers who offer tighter spreads for payments and selling XRP to institutional investors."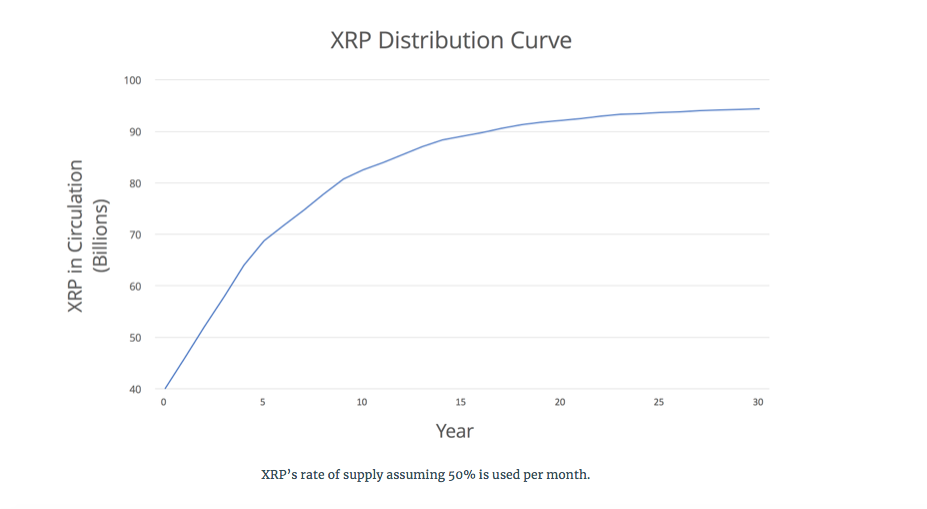 Source: Ripple
"Within the $50 billion digital asset market, XRP has already grown tremendously in volume and market capitalization, and this pivotal development comes on the heels of Ripple's significant customer traction with financial institutions. The lockup provides a level of predictability about XRP supply that is favorable for market demand," says Spencer Bogart, Head of Research at Blockchain Capital.
Ripple - The bank's blockchain
Ripple becomes the first choice of Banks for blockchain transaction. It is faster, efficient and more scalable digital asset for payments. Banks or financial institutions can use it for on-demand liquidity for cross-border payments. Payment providers and banks using XRP will gain greater access to emerging markets and much lower settlement costs.
Ripple offers a faster settlement of international payments on the blockchain. It has already added over 100 customers on the network, and more than 80 are banks that span every corner of the globe. Clients include Bank of America, RBC and UBS; BBVA in Spain; MUFG in Japan; Akbank in Turkey; SEB in Sweden; and Yes Bank, in India. Ripple-powered Instant Payment Services are now live with Axis Bank (India), RAKBANK, and Standard Chartered.
Japan Bank Consortium (JBC) — a collection of 61 Japan-based bank members brought together by SBI Holdings and SBI Ripple Asia, announced yesterday that they would be production-ready soon. JBC and Ripple worked together closely to create a unified platform for domestic and cross-border payments using Ripple solutions. Each bank now will have the ability to use Ripple solutions to send real-time, low-cost, transparent domestic and cross-border payments. American Express also announced partnership with Rippleto speed up cross-border payments between the U.S. and the U.K. by using blockchain technology in November 2017.
"We partnered with Ripple because of their strength bringing financial institutions together. Ripple's lockup of its 55 billion XRP with a cryptographic supply schedule is a clear signal that they are serious about building and maintaining a long-term, healthy ecosystem for XRP based applications," says Mike Belshe, Co-founder & CEO of Bitgo.
XRP recorded 20% hike in price
Ripple recorded a sudden hike of 20% today, Dec 08, 2017. The price (XRP) jumped from $0.22 to $0.27 in just 10 mins today and is stable at $0.24 at the time of writing. Cryptocurrency is volatile in nature, relevent news helps decide investors loyality.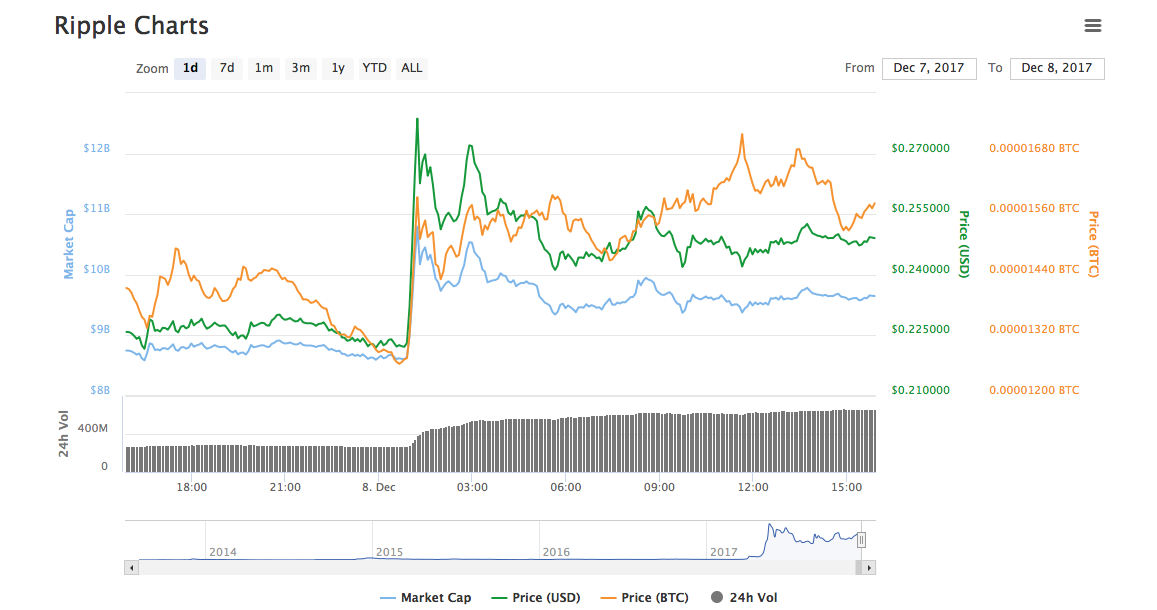 Source: Coinmarketcap
In long term, the value of digital assets will be determined by their utility, but commitment helps build healthy and trusted market. Ripple has emerged as a cryptocurrency with a clear institutional use case designed to solve a multi-trillion dollar problem – the global payment and liquidity challenges that banks, payment providers and corporates face. We look forward to see more adoption of Ripple and blockchain technology in 2018.
Voice your opinion: Is there an alternate blockchain, to challange the dominance of Ripple in Banking sector? Do let us know your thoughts in the comment section below.
Also read: American Express collaborates with Ripple for payments via blockchain
For more updates, technical blogs and general discussion on Blockchain Technology, follow us at Twitter, Facebook, Google+ and Medium. Subscribe here for weekly newsletter.
Disclaimer: This is not an investment advice. Readers are requested to do their own research before investing into any project.
---
---