Polygon PoS is currently facing several challenges that need to be addressed. One of the primary concerns revolves around its security model, which relies on a limited number of validators. To enhance security, Polygon PoS would greatly benefit from adopting more advanced Layer 2 technologies. Moreover, the its legacy tech stack requires substantial maintenance and may not be as efficient as newer L2 technologies currently available. Another issue affecting user experience is the occurrence of occasional deep chain reorganizations and gas price spikes.
These challenges cast doubt on the long-term dependability and viability of Polygon PoS, despite its current popularity and significance in the ecosystem. The proposed solution to tackle these challenges involves upgrading Polygon PoS to become a zkEVM validium. This upgrade aims to address the above issues faced by Polygon PoS. Validiums are a specific implementation of zk-powered L2s that provide security guarantees for transactions and the L2-L1 bridge by periodically submitting ZK proofs to Ethereum. In comparison to rollups, validiums offer lower fees and higher scalability.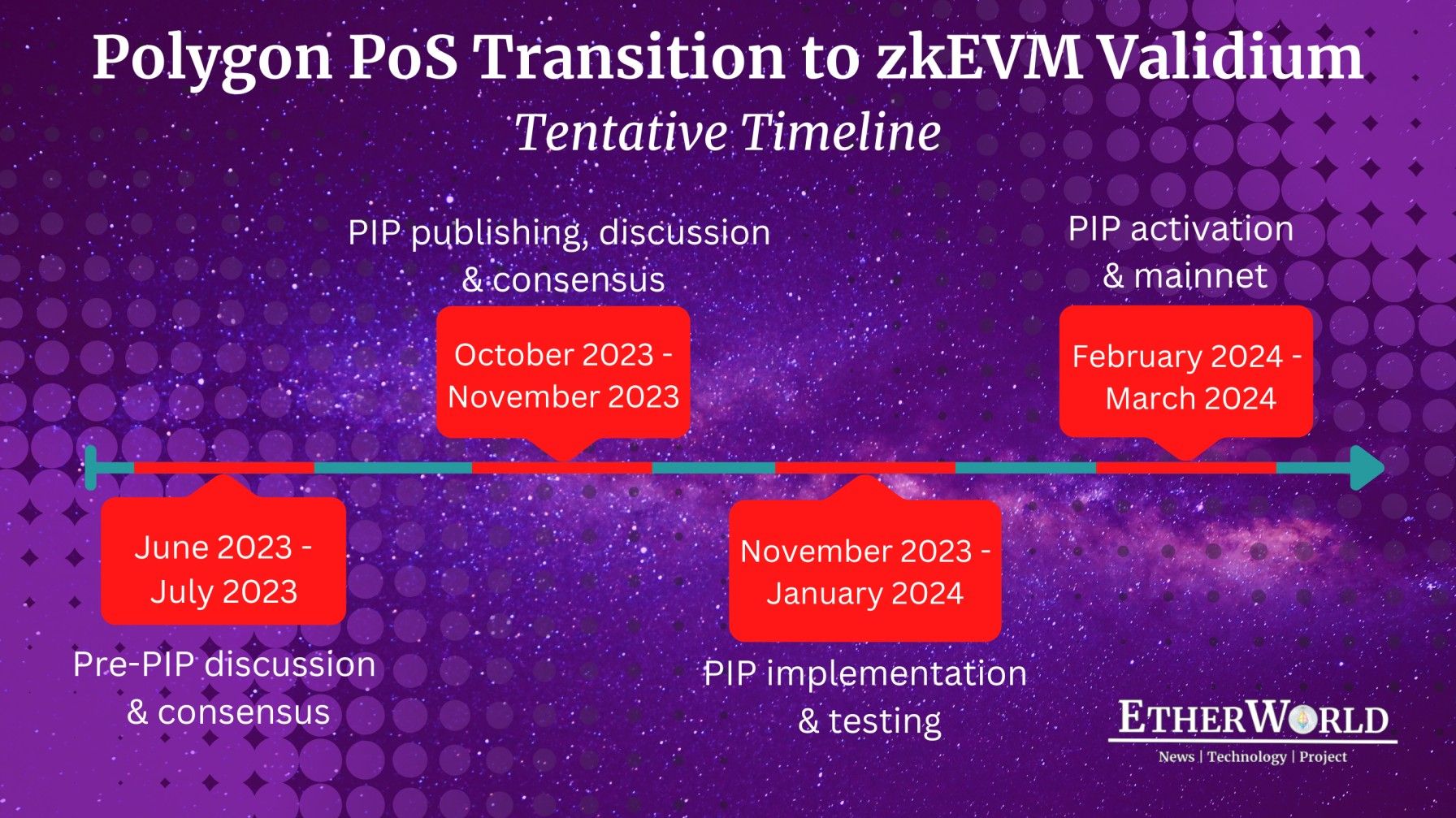 However, a potential downside to consider is ensuring transaction data availability outside of Ethereum. Nonetheless, Polygon PoS already possesses a decentralized validator set, which makes it a reliable option for transaction data availability. The upgrade to zkEVM validium is considered viable, straightforward, and beneficial, without significant concerns identified.
This upgrade is expected to bring several benefits. Firstly, it enhances security by leveraging Ethereum's security, including a large amount of staked ETH and a vast number of validators. Secondly, the upgrade incorporates Polygon's zkEVM, further enhancing the platform's capabilities. Additionally, the upgrade eliminates the occurrence of reorganizations by introducing decentralized validator/sequencer sets with deterministic, single block finality. This improvement significantly accelerates transaction confirmations, reducing the time from 256 seconds to a mere 2 seconds.
To better understand Polygon, here's a simplified explanation:
The improved consensus and scalability also result in better fee estimation, making gas estimation more reliable. Furthermore, the upgrade promotes greater decentralization by enabling the validation of entire blocks or chains with a single ZK proof. Finally, the upgrade aligns with the vision of Polygon 2.0, facilitating seamless interoperability with other chains in the Polygon ecosystem.
Related Articles
Related Videos
_____________________________________________________________________
Disclaimer: The information contained in this website is for general informational purposes only. The content provided on this website, including articles, blog posts, opinions, and analysis related to blockchain technology and cryptocurrencies, is not intended as financial or investment advice. The website and its content should not be relied upon for making financial decisions. Read full disclaimer and privacy Policy.
For Press Releases, project updates and guest posts publishing with us, email to contact@etherworld.co.
Subscribe to EtherWorld YouTube channel for ELI5 content.
Share if you like the content. Donate at avarch.eth or Gitcoin
You've something to share with the blockchain community, join us on Discord!
---
---