As blockchain community, one may have witnessed disagreement and fork of blockchains but this may be one of the unique forks were community gets divided due to moderation issues. 6 of 10 moderators left r/ethtrader and created a new subreddit /r/ethfinance/.
r/ethtrader is second largest Ethereum community on reddit with 218K members. Main reason behind the split is disgreement of moderators on decision an administrative issue. According to one of the ex-moderators of EthTrader, u/jtnichol
"Over the past week, this culminated in shocking and unilateral decisions by Carl to remove two long-time moderators over a minor, unsettled, disagreement on an administrative issue which was still under open discussion. In this unprecedented action, Carl unilaterally stripped u/AdamSC1 and then u/jtnichol of all moderator authorities and permissions. Combined with continual opaque behavior in engagement with reddit around Donuts, and generally unproductive communication with the broader moderator team on on-going operational issues, we feel we have no choice but to step down as moderators of r/ethtrader as a result of these actions."
Another ex-moderator of EthTrader u/AdamSC1, who is also the current moderator of /r/EthFinance & /r/Cryptocurrency, added:
I've had mostly good interactions with Carl over the years as well.
But, on rare occasions, he would make an unfounded, irrational and bad-taste knee-jerk decision on things and the mod team would spend time fixing it.
This time it was to remove moderators for disagreeing with him. That was the last straw for most of us. When the majority of the moderators voted to over turn his action and reinstate removed mods calling it "out of line" and "unacceptable" - Carl said his decision was final and that he wanted unilateral authority.
That was simply not ok.
This isn't a civil war or toxicity. This is one person being against the fundamental principles that were core to making a non-toxic community, and the rest of us standing up to try and preserve those values.
/r/ethfinance/ is created as a community for investors, traders, users, developers, and others interested in discussing the cryptocurrency ETH and general topics related to Ethereum. This new subreddit has already gained over 3K members within few hours of announcement. It is promised to be a high quality subreddit for all Ethereum-related discussions which will be well-moderated by a team of veterans and equals who will work together to make decisions around the direction of the sub, and is supported by many prominent community members.
Hudson Jameson, from Ethereum Core developers team, is one among many other supporters.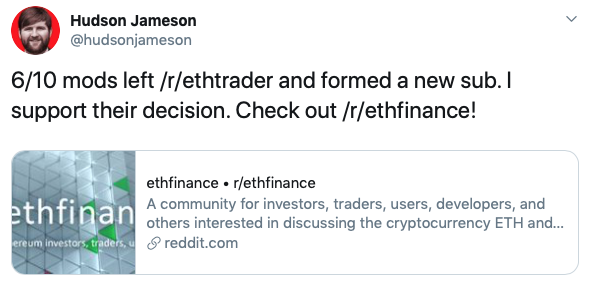 .
Current EthFinance Mod Team includes:
u/DCinvestor
u/jtnichol
u/blockchainunchained
u/ruvalm
u/AdamSC1
u/cutsnek
u/Mr_Yukon_C
u/ethfinance
Twitter: https://twitter.com/EthfinanceR
Discord: https://discord.gg/aA4QNrj

Disclaimer: EtherWorld.co has a disagreement with r/ethtrader on moderation issue which is unanswered, even after sending multiple messages to the moderators.

Nevertheless, being an active user of Ethereum's subreddits, we wouldn't find this community fork comforting; but on a positive note, we have now two subreddits available for community of investors and traders. The new one is also inviting users, developers, and others interested in discussing the cryptocurrency ETH and general topics related to Ethereum in addition to investors and traders. Looking forward to see many more interesting discussions around Ethereum blockchain on Reddit.

____________________________________________________________________________________________________


Disclaimer: This is not an investment advice and should NOT be viewed as project endorsement by EtherWorld. Readers are suggested to do their research before investing into any project.

Follow us at Twitter, Facebook, Reddit and LinkedIn

____________________________________________________________________________________________________

---
---