Ether, the digital currency of Ethereum blockchain has gone bullish again. According to coinmarketcap, it reached all time high $444.19 against USD on November 24, 2017.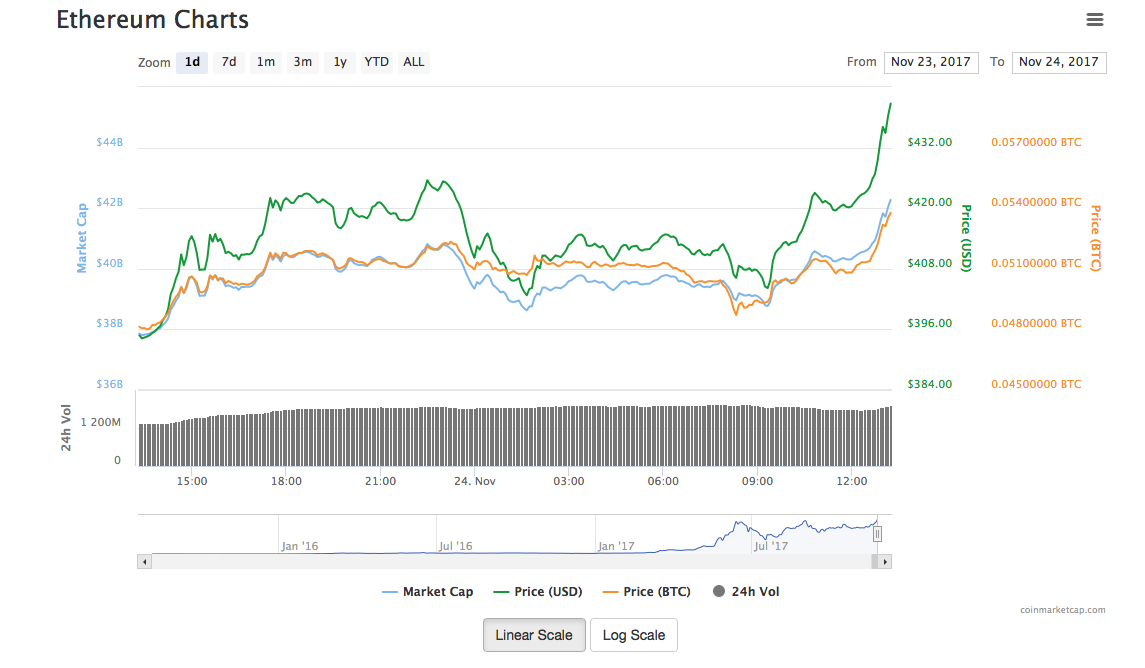 Source: coinmarketcap
Well, of course this is not the first time it has crossed the $400 mark against USD but this may be significant as this time it reached after "price correction". Back in June 2017, so many ICOs were planned on Ethereum blockchain and it suddenly became so popular that Ether's trading price crossed mark of $400 USD but, soon the price undergone correction. ICOs are boon as well as curse for the Ethereum Blockchain. Ponzi projects, hacking and regulation on ICOs had shaken the trust of many investors in Ethereum, specially those who were not aware of the real value of tech. Price per Ether rolled down and stayed at around $300 USD for a very long time. At one point of time it started giving competition to Tether (primarily known for having constant value equal to USD 1 per Tether) and is used to park money temporarily. Though, it may not be a fair to name Ether and Tether together after the recent news of Tether hack creating untrust with user.
A lot happened since then in cryptocurrency space. SEC's announcement - "DAO Tokens are Securities", Parity Wallet hack - funds saved by WHG, Bitcoin HF - Birth of Bitcoin Cash (BCH), China's ban on ICO, Bitcoin Gold, Ethereum Metropolis - Byzantium HF, Bitcoin Segwit 2X suspension, Bitcoin reached all time high and many more. Many big name that once were critic joined the movement. Digital currency received support by government of many countries like Russia, Japan, Ukraine. It has been full of excitement.
Devcon 3, organized in Cancun, Mexico; helped build investor's trust back on Ethereum. World came to know about many more new Dapps on Ethereum blockchain and the power of tech. It is difficult to be sure of the actual reason for the price hike but in my opinion, it is a combination of subsequent events and popularity of blockchain technology. In the last Eth dev meeting, team indicated that they may be on track or even ahead of the schedule for the next upcoming HF - Constantinople.
Not only the userbase but also the processing of transaction on Ethereum blockchain has increased significantly. According to a discussion on reddit, "Ethereum is now processing more transactions a day than all other cryptocurrencies combined".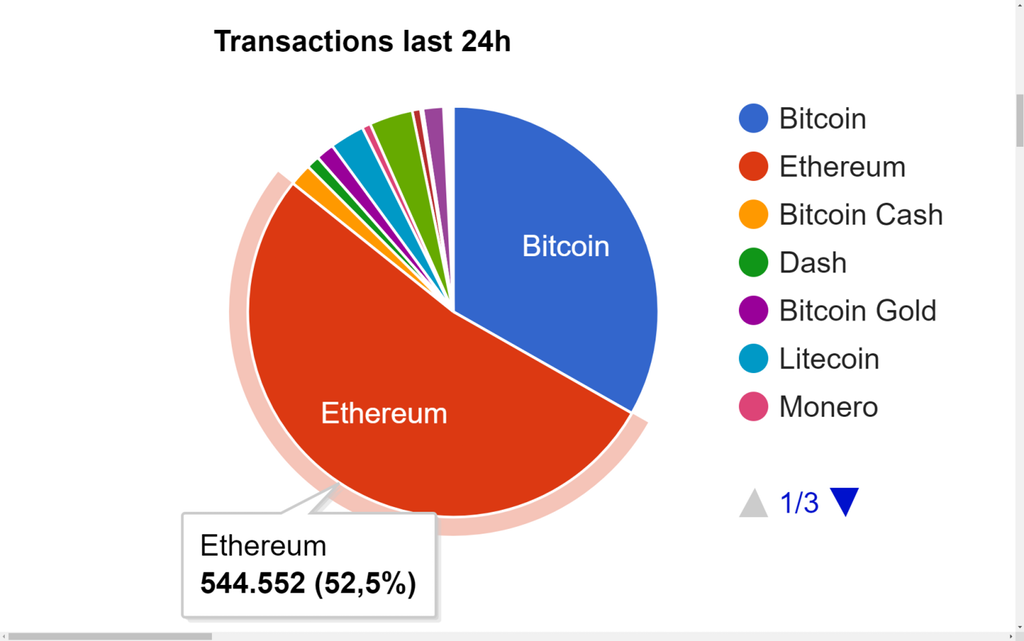 Source: reddit
Considering everything, it is difficult for anyone to deny the power of technology. A few months back, when I decided to speak openly about blockchain and cryptocurrency, I referred Ether as "The Dark Horse" of digital currency world, time has proven me correct. In March 2017, ETH was valued around $18 and now it is around $425 with a growth of approx 2260% whereas Bitcoin (BTC) then was around $1200 and at present around $8250 with a growth of 580%. Growth of Ethereum (ETH) is approx 4 times greater than the growth of Bitcoin (BTC).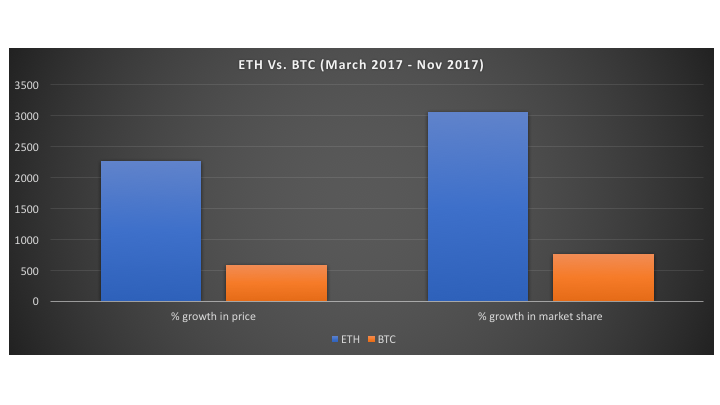 Giving this statistics, I don't intend to undermine Bitcoin. It is and will remain the pioneer of digital currency. Having said that, no one should refuse the growth of Ethereum over the time.
When I say, "It's still not late to invest in Ethereum blockchain technology", I don't mean to invest in Ether only. I mean, it is not too late to start investing your time in understanding the technology, your effort to contribute in growth of community, your money in growing along. I would refrain myself on commenting how much ETH will value in USD by January 2018, but I wouldn't hesitate in saying "Ethereum blockchain technology is the future".
For more updates, technical blogs and general discussion on Blockchain Technology, please Subscribe and follow us at Twitter, Facebook, Google+ and Medium. You can also reach us at contact@etherworld.co.
---
---