Ethereum Classic is ready to undergo a hard fork to upgrade its network to ECIP-1099 also called Thanos. The fork is scheduled to take place on November 28, 2020 at ETC block number 11,700,000. The upgrade will reduce the DAG size for Ethereum Classic (ETC) miners. The purpose of this fork is to calibrate epoch length used in DAG calculations. The testnet has already been activated since October 18.
Ethereum classic Thanos a.k.a Epoch calibration upgrade.
OpenEthereum, OpenETC, Classic Geth and MultiGeth will stop their operations on the ETC network.
Hyperledger Besu will continue supporting.
ETChash will be the new hash for Ethereum Classic
What is DAG and how does it matters?
DAG size refers to Directed Acyclic Graph plays an important role in ETH and ETC mining. The purpose of DAG is to provide ASIC resistance to the mining protocol. This allows decentralization and fair distribution of tokens to the miners. The upcoming fork will reduce the DAG size which is 3.91 GB at current epoch 372. Catalyzing changes at a higher epoch will reduce the DAG size and growth rate.
ETChash
The growth of DAG size is a continual process. It keeps on growing gradually after reaching every 30,000 blocks of ETH or approximately every 100 hours. The DAG file has to be loaded on the system's GPU memory for it to mine successfully. GPU is unable to mine further when the GPU file size exceeds the memory capacity of the GPU's VRAM. This stops the Ethereum mining. The fork will cause doubling Ethash epoch from 30,000 to 60,000 blocks which will result in reducing the DAG size limit by half. This modified version of Ethash will be called ETChash. DAG file size at 3GB and 4 GB VRAM allow miners to successfully enjoy higher prices and ratios. This way Thanos hard fork will also keep 4GB GPUs remain functioning for the next three years and more.
Node Upgrading
The node users are advised to upgrade the node before the ETChash mining hard fork. Core-Geth and  Hyperledger Besu extended support to the fork. According to the announcement, Open  Ethereum, OpenETC, Classic Geth and MultiGeth will stop their operations on the ETC network. This means that both will not support ETC after the Thanos hard fork. Therefore, node operators on these clients are advised to move out of these to continue on the ETC network since both have announced to stop their services for ETC after the fork. Although, Hyperledger Besu has announced support for the Thanos hard fork.
Mining pools are required to update to the latest version of their clients. Activation should occur on a block in which an epoch transition coincides with an even epoch number and calculated block number is 11,700,000.

Other ETC hardforks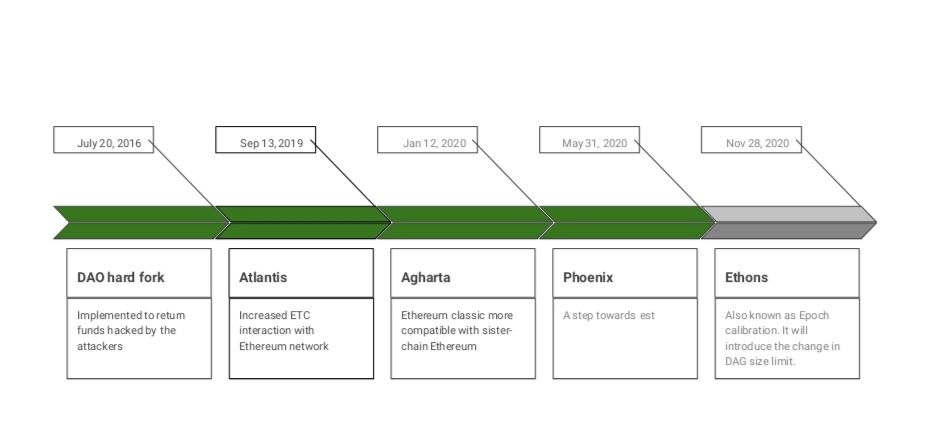 The most anticipated hard fork of Ethereum happened in the year 2016 at block number 192,000. The fork was rather an experiment to bring back funds after the protocol was hacked. DAO is Decentralized Autonomous Organization. In DAO a group of people was responsible to write and run smart contracts. ICO and crowdsale were offered to pool in funds. DAO started its operation after the funding period was over. Hackers approached DAO and managed to drain as many as 3.6 million ether into a "child DAO" that has the same structure as The DAO. As a result price of ether dropped from over $20 to under $13. Several forks suggested by the community members to prevent further loss of cryptocurrency. Finally the consensus was established to implement hard fork on July 20 and separate DAO to return all the Ether taken from the DAO to a refund smart contract.
Ethereum Classic is an outcome of Ethereum hard fork that resulted in ETC and ETH blockchains. The Thanos is also known as EIP-1099(Epoch calibration) is an upcoming upgrade on ETC. Ethereum Classic has implemented upgrade thrice till date. This year, Ethereum Classic implemented two hard forks Phoenix and Agharta which included features from Ethereum's Istanbul fork and Constantinople fork respectively. ETC implemented its first hard-fork Atlantis on September 13 (2019) at block number 9,573,000. Agharta took place on January 12 (2020) at block number 8,772,000 and the third fork, Phoenix  implemented on May 31, 2020 at block number 10,500,839.
Also Read:
________________________________________________________
Disclaimer: The information contained on this web page does NOT constitute financial advice or a solicitation to buy or sell any cryptocurrency contract or securities of any type. Trading is a high-risk activity. Readers are suggested to conduct their own research, review, analyze and verify the content before relying on them.
To publish press releases, project updates and guest posts with us, please email at contact@etherworld.co.
You've something to share with the blockchain community, join us on Discord!
Follow us at Twitter, Facebook, LinkedIn, Medium and Instagram.
---
---