Eth2 contract genesis launch marks the official countdown for Eth2, stirring excitement among the Ethereum community. The earliest genesis event is set to take place  on December 1, 2020 at 12pm UTC. Ethereum network has released version 1.0 of Eth2 specs including the mainnet contract address in a blogpost by Danny Ryan.
Phase 0 v1.0 spec release
Ethereum network has released v1.0 specs for eth2 and named it Comic Egg. This is to be called Phase 0 and will launch a beacon chain. It has also published the mainnet deposit contract address:
0x00000000219ab540356cBB839Cbe05303d7705Fa

The mainnet contract is available via ENS name depositcontract.eth. The name has been renewed till 2150 and then the ownership is burned. This will guard against phishing and not let anybody tamper the records.
"Check, double-check, triple-check the deposit contract address before sending any funds anywhere 🚀" Danny Ryan
Genesis announcement
Genesis is subject to achieving enough deposits on the contract. According to developers,  to unlock the first stage of Eth2.0, it requires 16,384 validators to stake at least 524,288 ether for the genesis event to take place on December 1. As of now more than 1500 eth has been staked which is a positive news for the community.
In case the required targets are unable to meet before time, genesis will trigger seven days after the threshold is met. For each Eth2 validator, 32 Eth needs to be sent to the contract along with some other data. Medalla testnet via the Lanchpad portal. A progress bar is displayed on the Launchpad will indicate how much more is needed to achieve the genesis on December 1.
Warning for depositors
Validators are requested to double- verify the correct contract addresses while depositing ETH to the beacon chain on Ethereum 2.0 to avoid involvement into scams. ConsenSys has recommended Ethereum Foundation, EthHub and Etherscan as trustworthy sources and depositors to recheck addresses before staking.  
Less than a month ago, the final dress rehersal of the testnet was performed read more about it.
[![Screenshot-2020-11-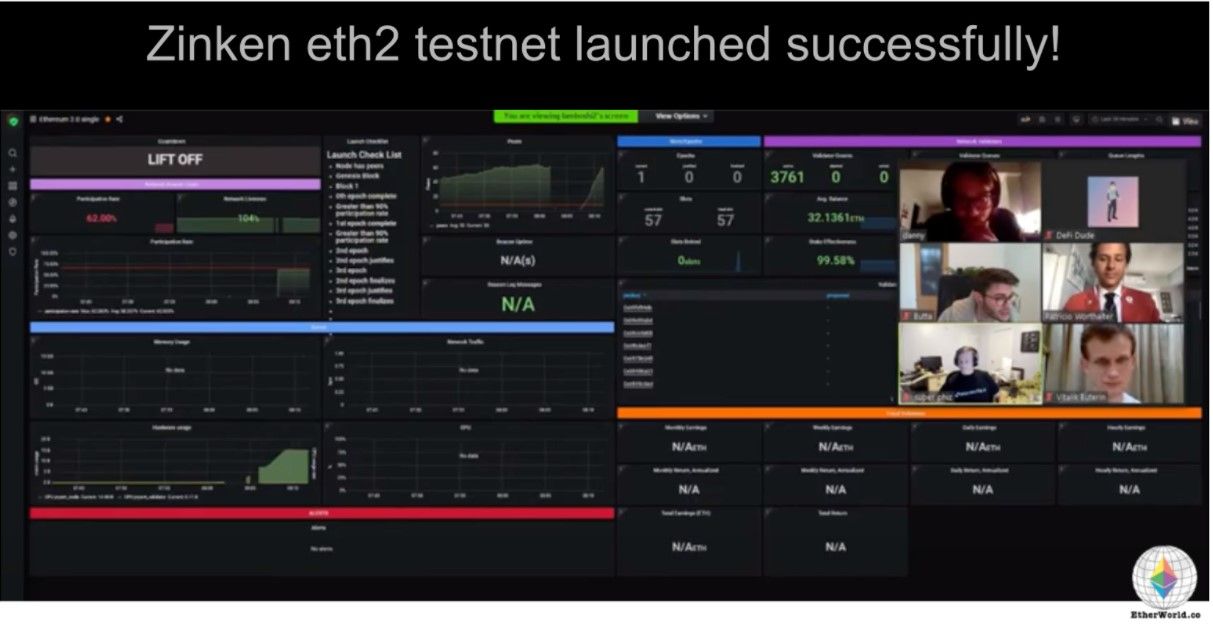 co/2020/10/12/zinken-testnet-launched-successfully/)
The first stage of long-awaited Eth 2.0 is less than a month away. An announcement made with the release of a live deposit contract is destined  to start a  new era of blockchain technology this Christmas.
Also read:
________________________________________________________
Disclaimer: The information contained on this web page does NOT constitute financial advice or a solicitation to buy or sell any cryptocurrency contract or securities of any type. Trading is a high-risk activity. Readers are suggested to conduct their own research, review, analyze and verify the content before relying on them.
To publish press releases, project updates and guest posts with us, please email at contact@etherworld.co.
You've something to share with the blockchain community, join us on Discord!
Follow us at Twitter, Facebook, LinkedIn, Medium and Instagram.
---
---