Round 7 of Gitcoin grants has been successfully concluded. This allowed matching partners to contribute to the wide variety of community- selected projects through Gitcoin's quadratic funding mechanism. Quadratic funding is an innovative democratized funding model that allocates more funds to the projects with more number of independent donors eliminating institutionalized big donors. This ensures that the blockchain and DeFi community as a whole determines which project gets the most funding without capitalization overriding it. Round 7 is not only astonished for the amount of funds it received but also for experiments it included to attract the donor side. Gitcoin announced its first formal experiment in 2019 with CLR with $25,000 in matching contributions from Gitcoin's CLR Fund which was sponsored by Ethereum Foundation and ConsenSys.
The list of matchers were:
Chainlink, a smart contract oracle project
Optimism, a layer-2 optimistic rollup
Balancer, a decentralized exchange
Synthetix, a synthetic assets platform
Yearn, a collateralized-lending platform
Three Arrows Capital, an investment fund
Defiance Capital, another investment fund
Future Fund, which is totally not an investment fund! (/s)
$MEME, a memecoin
Yam, a defi project
Some individual contributors: ferretpatrol, bantg, Mariano Conti, Robert Leshner, Eric Conner, 10b576da0
Round 7 received unexpected funds
Round 7 helped significantly in increasing funds for projects popular among the community. Vetalik in his blogpost mentioned that this round received $274,830 in contributions and $450,000 in matched funds distributed across 857 projects. The category structure was once again restructured and renamed as "dapp tech", "infrastructure tech" and "community". He also informed that some of the funds will be reserved as a "rainy day fund" for future rounds in case future matchers are less forthcoming.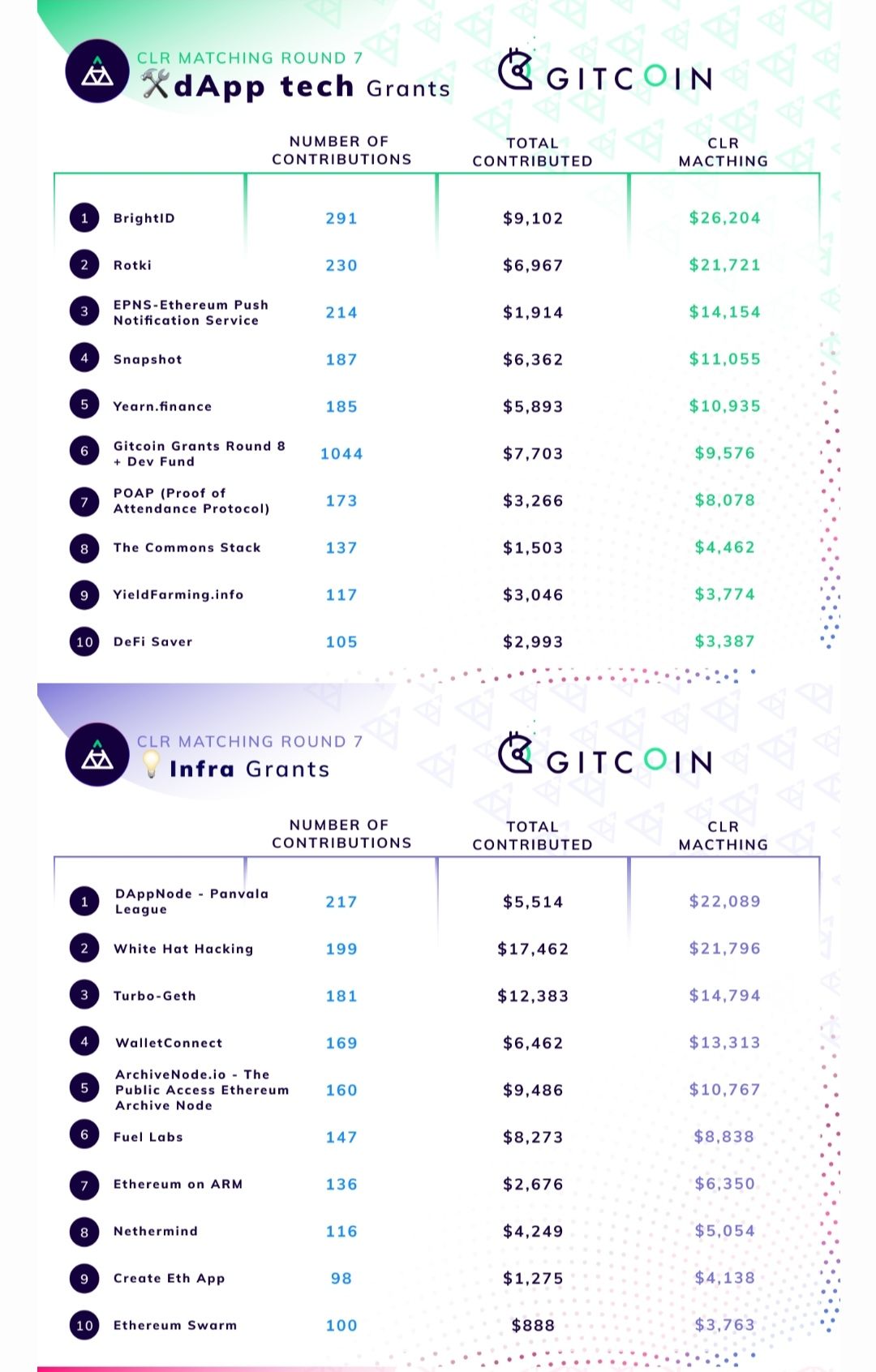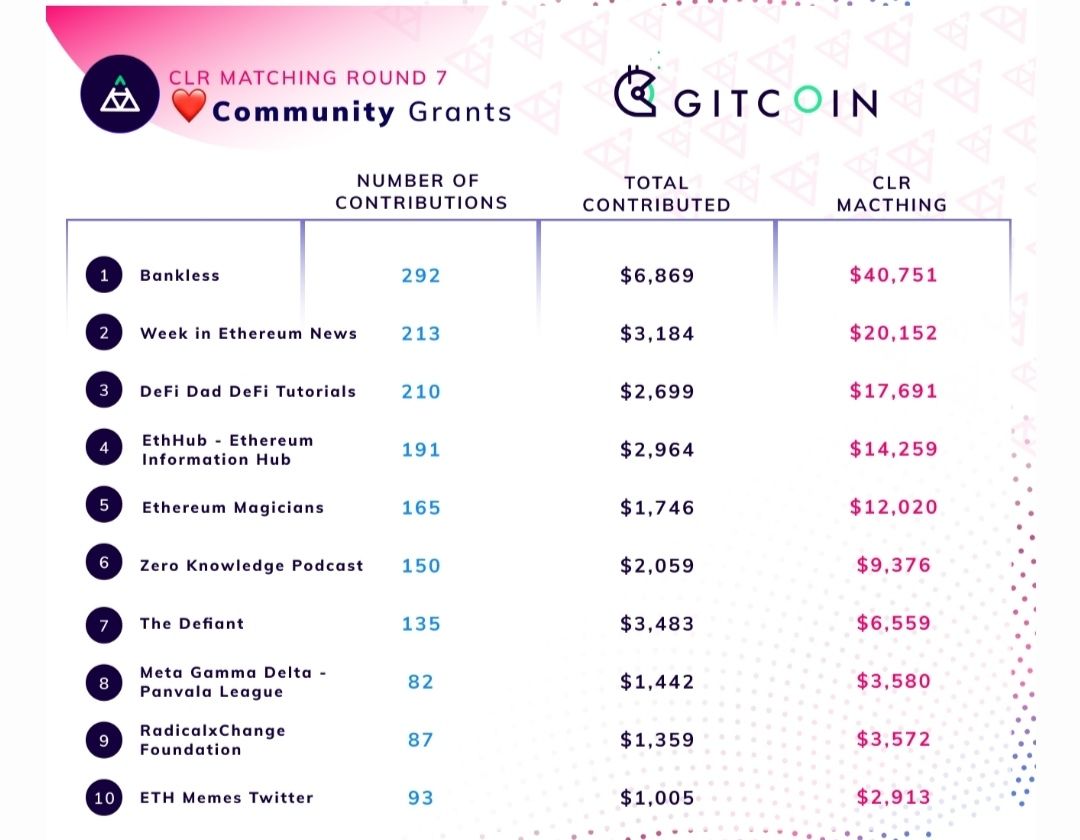 What's new in this round
Verification option to identify fake accounts
In order to compete with fake accounts and other attacks on Gitcoin Grants, Round 7 introduced an additional verification option with the decentralized social-graph-based BrightID. It allows people to prove to applications that they are not using multiple accounts. It solves the unique identity problem through the creation and analysis of a social graph. The social graph contains cryptographically signed connections between people.
Experiment for low gas transfer
Round 7 was the first round where Gitcoin Grants experimented with using the zkSync ZK rollup to decrease fees for payments. zkSync is a scaling and privacy engine for Ethereum. Its current functionality scope includes low gas transfers of ETH and ERC20 tokens in the Ethereum network.
Most funded round that ever
Vitalik informed that this round is the first round where top recipients on all sides received quite a large amount.  On the infrastructure side, the White Hat Hacking project received a total of $39,258, and the Bankless podcast got $47,620. Round 5 offered a pool of $250k for matching that was to be used for the COVID19 and Ethereum project. Round 6 of their coveted CLR Grant matching round concluded with $175000 in matching.
"This is a significant milestone for the ecosystem because it shows that Gitcoin Grants is expanding beyond reliance on a very small number of funders, and is moving toward something more sustainable" said Vitalik
Round 7 has been the biggest round yet. This can be seen as a step towards empowering developers worldwide to create secure decentralized systems that enable to redefine crypto industry with universally connected smart contracts.
____________________________________________________________________________
Disclaimer: The information contained on this web page does not constitute financial advice or a solicitation to buy or sell any cryptocurrency contract or securities of any type. Trading is a high-risk activity. Readers are suggested to conduct own research, review, analyze and verify the content before relying on them.
To publish press releases, project updates and guest posts with us, please email at contact@etherworld.co.
---
---