EtherDelta Token (EDT) is added to coinmarketcap.com, surprised?? Yes, EtherDelta, an Ethereum based decentralised cryptocurrency exchange has undergone ICO process and now its token EDT has been listed as a digital asset on Coinmarketcap.
EtherDelta Token Generation Event (TGE) started on Dec 31, 2017 with a decided Hard Cap at 75M EDT. They temporarily stopped listing new tokens, until the end of Token Generation Event(TGE). As per the information available on official twitter,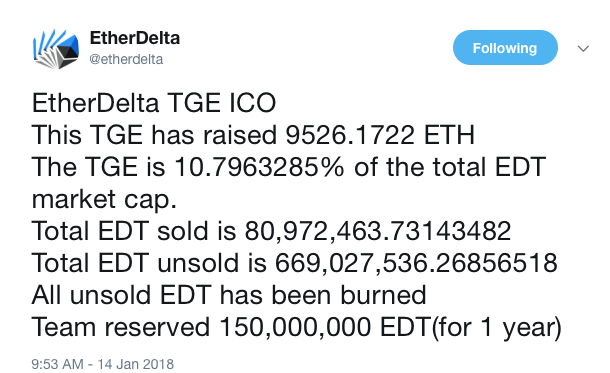 Total EDT circulation after burning is 830,972,463.73143482 as mentioned in twitter. Clearly, the only exchange which is available for trading of EDT is EtherDelta. EDT acts as the token that http://Etherdelta.com will keep repurchase through the company's 100% profits!
According to coinmarketcap.com, EDT is currently trading at $0.072. However, info on market cap and circulating supply is not available.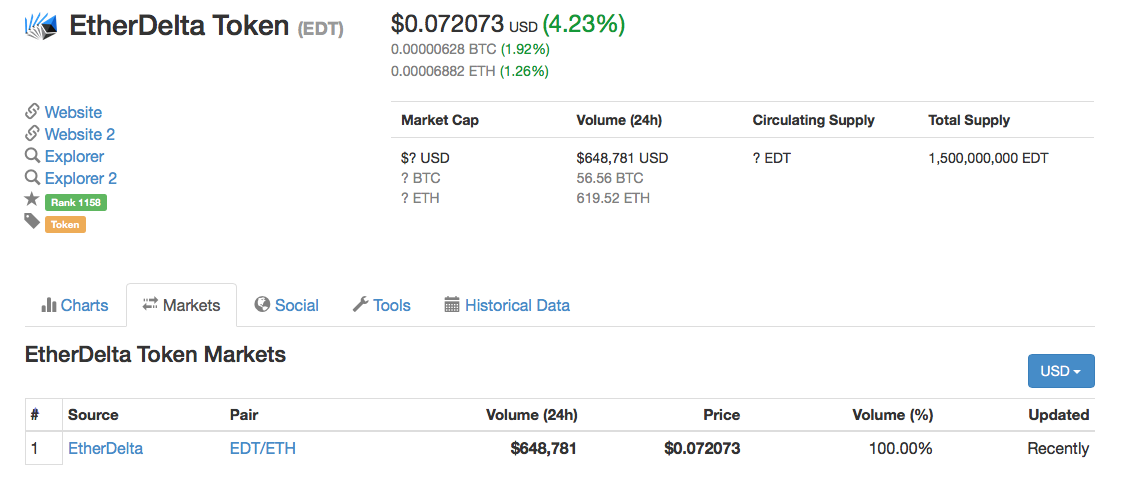 Even the data provided is not adding up.
Coinmarketcap data shows total supply is 1,500,000,000 EDT wheras ED twitter says 150,000,000 EDT is team's reserve (for 1 year).
Total EDT sold is 80,972,463.73143482 and all unsold EDT has been burned, but Total EDT circulation after burning is 830,972,463.73143482, how?
It seems that EtherDelta and coinmarketcap have to look into the data. Considering the current issues of centralised exchanges, need of decentralized exchange is high but not sure how the token of an exchange will add up to the equation. Well EtherDelta 2.0 is coming soon. Hope it helps cryptocurrency investors coming out of the web of centralized exchanges.
Also Read: EtherDelta domain hacked.
Follow us at Twitter, Facebook, Google+, Steemit and Medium for more interesting stories. To receive weekly newsletter, subscribe here. To publish Press Release and listing of ICO at our website, email at contact@etherworld.co.
---
---