BCH Wallet by Blockchain
Blockchian, a popular Bitcoin wallet which also supports Ether, announced their gift to BCH community by introducing Bitcoin Cash wallet today, Dec 14, 2017. Considering huge demand of Bitcoin Cash, they already revealed their intent of including Bitcoin Cash wallet last month; from today it will be supported with full functionality through the same web wallet.
For those who had Bitcoin in their Blockchain wallet prior to August 1st, will see an equal amount of Bitcoin Cash in their wallet now. Users now have a full suite of options to send and request funds, safely manage balances, and monitor market prices. They can also trade Bitcoin and Ether for Bitcoin Cash using its exchange integration.
At present this is available on web only. Users will have full, exclusive access to their funds with their backup phrase for BCH and managing their private key just like BTC and ETH. Support on mobile will be available by the end of Q1 2018.
Bitcoin Cash Visa debit card and ATM
Bitcoin.com will introduce Bitcoin Cash Visa debit card soon tweeted Roger Ver.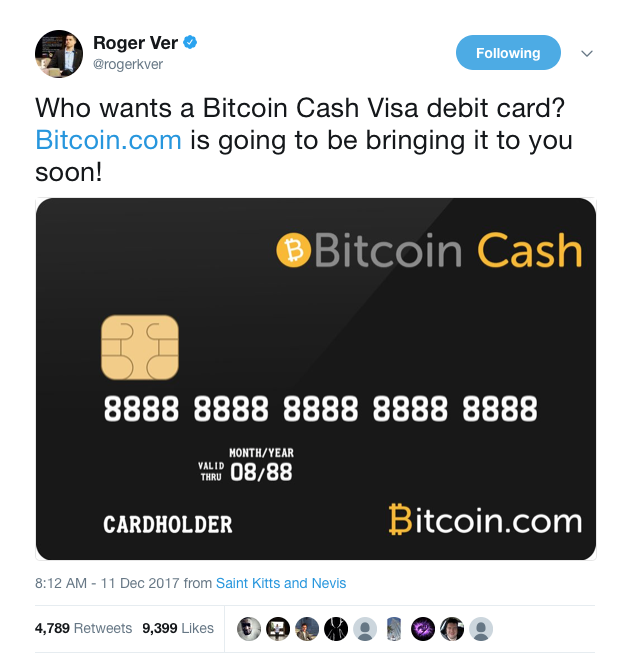 Lamassu, one of the biggest cryptocurrency manufacturer has been working on adding support for currencies other than Bitcoin. They added support for Bitcoin Cash tweeted Lamassu on Dec 4, 2017.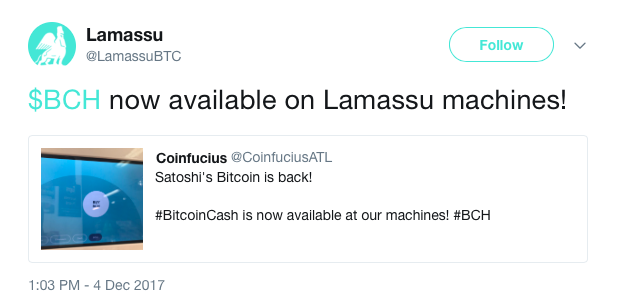 Introduction of Debit Card and ATM will attract more users and give a boost to the price. Bitcoin Cash is already in top 5 digital asset (by market cap); convenient access to BCH aside from exchanges or brokers will strengthen the community.
BCH over $2K mark
Bitcoin Cash took a leap of more than 30% and its price jumped from $1596 to $2075. It crossed the $2K mark again.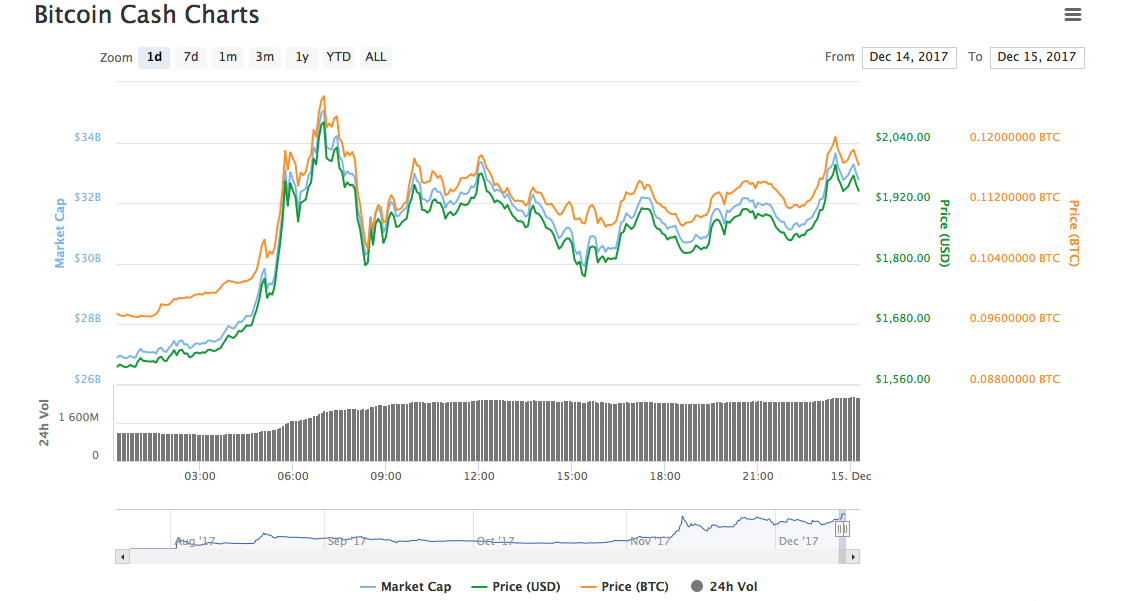 Source: Coinmarketcap
Previous month, Bitcoin Cash reached over $2000 and stayed as second largest crypto for few hours. Vitalik Buterin, co-founder of Ethereum, congratulated BCH team with his tweet.
Increasing support to Bitcoin Cash community
Bitcoin Cash is a fork of Bitcoin and was created on August 1, 2017. It is believed to be the "real Bitcoin", because it probably is closer to the original vision. Earlier, many supporters of Bitcoin including popular exchanges like Coinbase, were not ready to support Bitcoin Cash (BCH). In a statement, they said, Coinbase does not want to support Bitcoin Cash (UAHF) hard fork. Today, the situation is a bit different. Now with the increase in popularity of digital asstes, and higher transaction charge of Bitcoin, many users see Bitcoin Cash as an economical option. With Coinbase's announcement of adding support for more altcoins by 2018, we may expect Bitcoin Cash to be listed there soon.
Dr. Craig S Wright said,
"The competition in today's cryptocurrency space is just practice for the real battles to come.

When Bitcoin (BCH) becomes nearly universally adopted globally, it will be the defacto world reserve currency.

That is the time of the real battle to come."
However, due to less miners involved with Bitcoin Cash, it is more susceptible to attacks than Bitcoin and not to forget block size may become an issue in future that might need immediate attention. We hope that team will soon look into the concerns and help community keep growing.
Also read - Introduction To Bitcoin Cash Wallet
Follow us at Twitter, Facebook, Google+ and Medium. For weekly newsletter, subscribe here. For publishing Press Release and free listing of ICO at our website, email at contact@etherworld.co.
Disclaimer: This is not an investment advice. Readers are requested to do their own research before investing into any project.
---
---