The Securities and Exchange Commission (SEC) in United States has been actively working towards regulating the unregulated trade of cryptocurrency and Initial Coin Offering (ICO). SEC issued advisory to investors, and shared some not so good news for the crypto supporters like announcing "DAO Tokens are Securities", and good news for investors like shut down project post ICO (Protostarr), halted $150 million scam (PlexCoin ICO). SEC also created a cyber unit to focus the Enforcement Division's cyber-related expertise on misconduct involving distributed ledger technology and initial coin offerings, the spread of false information through electronic and social media, hacking and threats to trading platforms.
For the first time, SEC talks about the ICO and cryptocurrency where they are ready to acknowledge the growth and acceptability worldwide. SEC talks about utility tokens and clarifies that all token sales would not be securities. SEC Chairman Jay Clayton shared his views on the cryptocurrency and ICO markets which is a delight for the community.
There are tales of fortunes made and dreamed to be made. We are hearing the familiar refrain, "this time is different."
His statement provides general views directed principally to two groups:
Main Street investors
Market professionals – broker-dealers, investment advisers, exchanges, lawyers and accountants; whose actions impact Main Street investors.
Main Street investors
Basic concerns of investors (new and existing) are:
Is the product legal? Is it subject to regulation, including rules designed to protect investors? Does the product comply with those rules?
Is the offering legal? Are those offering the product licensed to do so?
Are the trading markets fair? Can prices on those markets be manipulated? Can I sell when I want to?
Are there substantial risks of theft or loss, including from hacking?
Answer to these questions often require an in-depth analysis, and may differ depending on many factors. SEC advice investors to read investor alerts, bulletins and statements on initial coin offerings and cryptocurrency-related investments. It suggests to exercise extreme caution and be aware of the risk that investment could be lost.
"If you choose to invest in these products, please ask questions and demand clear answers" said Jay Claton.
Please note that till Dec 11, 2017, no Initial Coin Offering (ICO) has been registered and no listing & trading any exchange-traded products (such as ETFs) holding cryptocurrencies or other assets related to cryptocurrencies has been approved for. If any person today tells you otherwise, be especially wary.
Market Professionals
ICO, whether they represent offerings of securities or not, can be effective ways for entrepreneurs and others to raise funding for innovative projects and when a security is being offered, securities laws must be followed. The change in the form of the transaction (distributed ledger) does not change the substance so they must be accompanied by the important disclosures, processes and other investor protections.
SEC chairman requested market professionals, securities lawyers, accountants and consultants to guide and motivate ICOs for SECs principal for registration, disclosure requirements and investor protection to protect Main Street investors. He also cautioned about the violation of the Securities Exchange Act of 1934.
On cryptocurrencies, he emphasized two points.
A. While there are cryptocurrencies that do not appear to be securities, simply calling something a "currency" or a currency-based product does not mean that it is not a security. Before launching a cryptocurrency or a product with its value tied to one or more cryptocurrencies, its promoters must either
(1) be able to demonstrate that the currency or product is not a security or
(2) comply with applicable registration and other requirements under our securities laws.
B. Brokers, dealers and other market participants that allow for payments in cryptocurrencies, allow customers to purchase cryptocurrencies on margin, or otherwise use cryptocurrencies to facilitate securities transactions should exercise particular caution, including ensuring that their cryptocurrency activities are not undermining their anti-money laundering and know-your-customer obligations.
The payments and other transactions made in cryptocurrency should be treared as if cash were being handed from one party to the other.
However, he cautioned in BOLD,
"Please also recognize that these markets span national borders and that significant trading may occur on systems and platforms outside the United States. Your invested funds may quickly travel overseas without your knowledge. As a result, risks can be amplified, including the risk that market regulators, such as the SEC, may not be able to effectively pursue bad actors or recover funds."
Giving due credit to Ethereum Blockchain Technology on which major ICOs are based, Marco Santori, Advisor to the I.M.F. and Blockchain Legal Ambassador to the State of Delaware said,
"I confess, I doubted I'd see a definitive statement from SEC clarifying that a great swath of potential token sales would not be securities... even giving examples! What a day. ETH has a clear, legal use case."
The price of Ether has exploded today. ETH recorded all time high at $660 at the time of writing this article.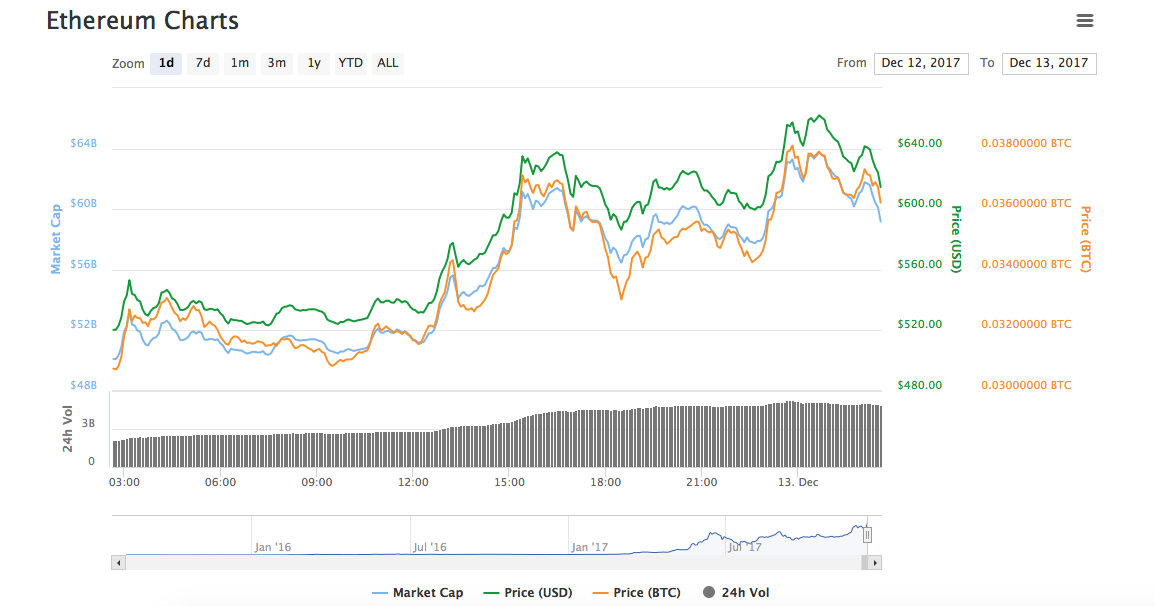 Bitcoin on the other hand, has debuted into the mainstream of investing with Bitcoin Future trading with the Chicago Board Options Exchange.
Jay Clayton said, "This statement is my own and does not reflect the views of any other Commissioner or the Commission. This statement is not, and should not be taken as, a definitive discussion of applicable law, all the relevant risks with respect to these products, or a statement of my position on any particular product". Yet, any such statement by SEC Chairman about Initial Coin Offering (ICO) brings relief to many startup projects which are diligently trying to give some useful product to the community using blockchain. Looking forward to see more positive statement from regulatory bodies of other countries too.
Also Read: It's still not late to invest in Ethereum Blockchain Technology
For more updates, technical blogs and general discussion on Blockchain Technology, follow us at Twitter, Facebook, Google+ and Medium. Subscribe here to receive blockchain weekly newsletter.
Disclaimer: This is not an investment advice. Readers are requested to do their own research before investing into any project.
---
---