Coinbase, the biggest digital asset exchange of US which also extends support to many other countries, has updated their customer on Potential Bitcoin User Activated Hard Fork (UAHF). According to the tweet today, July 19, 2017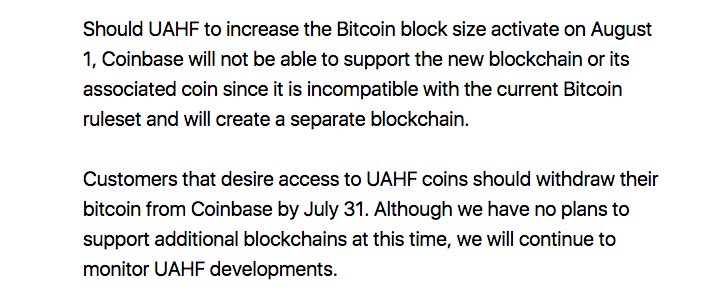 Coinbase does not want to support Bitcoin Cash (UAHF) hard fork, and asks its customers to withdraw their bitcoins by July 31 if they want to ensure access to their funds on the fork chain.
For more updates, technical blogs and general discussion on Blockchain Technology and Ethereum, please join us at our Website, reddit, Facebook, Medium, Slack and follow us at Twitter. Please feel free to share this post, email us with your suggestions.
bitcoin #blockchain #cryptocurrency #UAHF #coinbase
---
---