Rising price of Ether (the digital currency of Ethereum) is no more a news but a trend now. The noticeable fact here is it never fails to amaze investors by breaking its old record with a new one every day. The growth is enormous in past week and is making headlines daily. Rising from $17.63 per ETH on Thursday March 9, 2017 it has crossed $42.18 today Thursday March 16, 2017. Ethereum has increased its market share up to $3.64B.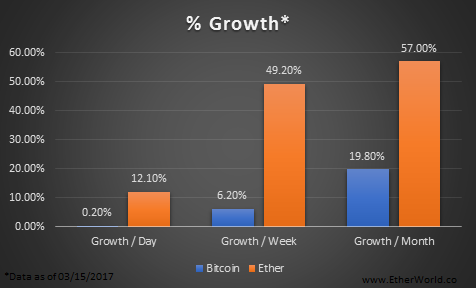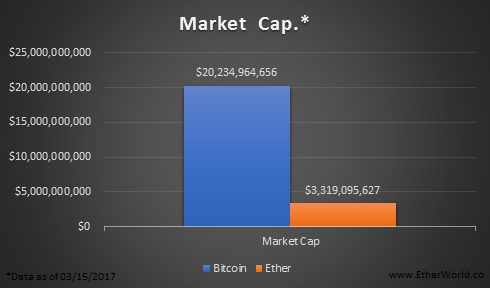 Even if, the percentage growth of Ethereum is way higher than the Bitcoin yet Bitcoin is the market leader with market share of $20.23B and a market value of $1192.37 per Bitcoin.
Industry analysts hold couple of theories for the expanding price and market cap of Ethereum. The rejection of Winklevoss Twin's ETF (exchange-traded fund tied to the price of Bitcoin) by The SEC (Securities and Exchange Commission) on Friday March 10, 2017 and the announcement of EEA (Enterprise Ethereum Alliance) in Feb 2017 could be the reason to make ETH stronger against USD.
Beyond the theories, growth is mostly dependent on its own effort. According to Buterin, Bitcoin's Proof-of-work concept is vulnerable to something along the lines of a "P + epsilon attack", a way that miners can fool the system. Ethereum's Proof-of-stake is more secure and could provide fairer alternative to Bitcoin's consensus mechanism. However, Proof-of-stake hasn't been deployed on large scale network yet.
"Growth is never by mere chance; it is the result of forces working together." - James Cash Penne
According to predictions made by few leading newsdesks in the beginning of the year 2017, Bitcoin may reach up to $2000 by the end of this year and Ether may be valued $50 by the end of 2018. Considering the rejection of ETF of Wilkinsslov brother by SEC, it looks Bitcoin's prediction may be little difficult to achieve. But, On the other side considering it successful Ethereum Enterprise Alliance supported by more than 30 leading names of Software and Banking sector, and ether's growth graph over a week; we can assume that days are nor far to attain the high of $ 50 per Ether.
As always, we are committed to provide the latest update on Ethereum at EtherWorld.co .
For more updates, technical blogs and general discussion on Blockchain Technology, Subscribe for weekly newsletter and follow us at Twitter, Facebook, Google+ and Medium. You can also reach us at contact@etherworld.co.
---
---