Tamagotchi-inspired game, Aavegotchi finalized its mainnet launch on January 4, 2021. A mainnet launch will release the final product for the users. In a release shared by the company, AAVE announced investment in Pixelcraft Studios, the Singapore- based company developing Aavegotchi. AAVE recently announced to come up with its second version, incorporating new features such as flash loans, gas optimization, debt tokenization among other advantages. Aavegotchi was initially founded by the team AAVE and now that Aave is on the road of achieving a new milestone, Aavegotchi is also ready to storm the industry with a new gaming mechanism in place.
What is Aavegotchi?
Aavegotchi is a mix of DeFi, gaming and NFTs packed together. Blockchain Gaming on Ethereum is a bit of an expensive experience for some people due to high gas prices. Aavegotchi is the solution for the gamers. The Aave team first announced Aavegotchi in early July 2018. The purpose was to reward users through gaming. The game would feature four key concepts- ghost, wearables, Rarity level and traits. Ghosts are collectible NFTs that have Aave aTokens staked inside them as collateral.
On September 14th, the Aavegotchi launched the $GHST DAICO. Community members set up ETH/GHST liquidity pool on Uniswap after the announcement was made. Community does not spend any time acquiring the token and within a few hours more than 1,000 Ethereum addresses claimed the token. Soon after AavegotchiDAO 2.0 was released, seeking solutions like Matic, xDai and others for better on-chain performance. The second version is crucial for the mainnet launch as well.
$GHST Governance Token
The launch will also unlock the token swap option for the users. The teams issue their own tokens on other blockchains, such as Ethereum (ERC-20). During the mainnet launch, these tokens will be used to exchange with the project's own governance token GHST. GHST is essentially a non-refundable functional utility token to perform a secure mode of payment and settlement between the participants on the Aavegotchi ecosystem. However, GHST is inherently transferable and can be fully exchangeable with various supported ETH and ERC20 tokens, such as DAI, LEND (AAVE) and others.
Aavegotchi Token Bonding Curve
Aavegotchi captures the value of both DeFi and NFTs combining together and helps to farming yield and earn interest for staking. Users can create adorable pixelated ghost avatars also called Aavegotchis that are NFTs (Non-Fungible Tokens) staked with interest generating aTokens from Aave. The price of $GHST is decided by the market demand and supply. Aavegotchi uses a bonding curve to reflect the demand of its native token that ensures stability in the prices. When a user purchase GHST, the curve mints the order and increase the total supply. On the other hand, whenever GHST is sold, the curve is burned. This reduces the total supply. The prices fall. It is to be noted that there is no supply cap on GHST.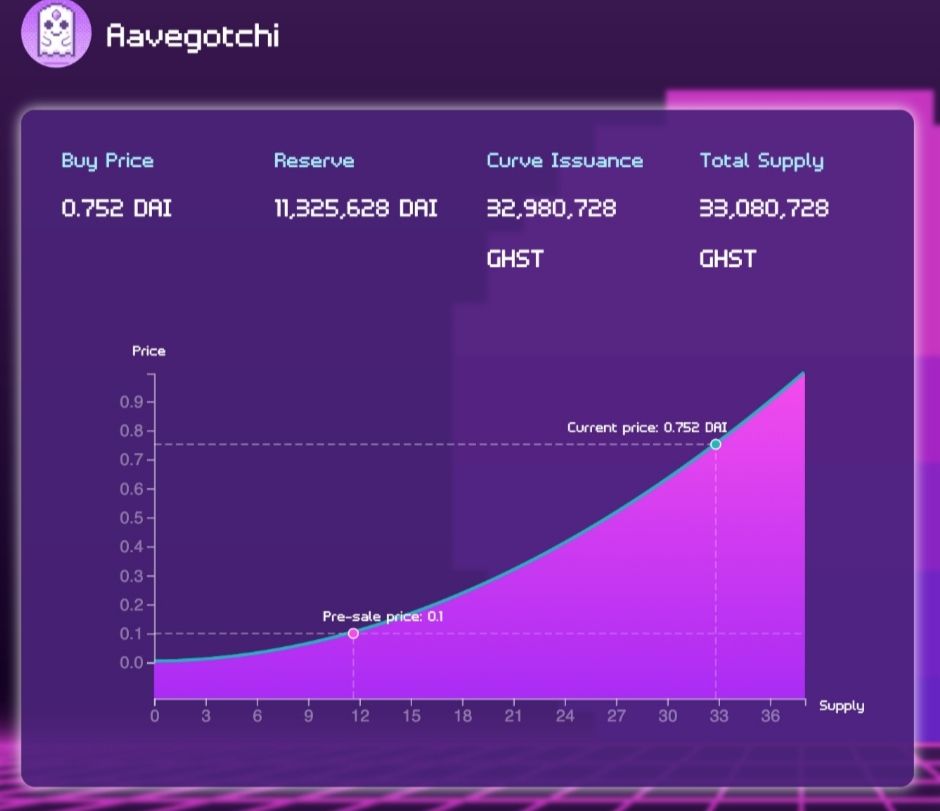 How does it work?
A user needs to have $GHST and aTokens to play on Aavegotchi. Users should also possess collateral in AAVE. Aavegotchi are living, breathing digital creatures composed of spirit, traits and wearables. Spirit force is the collateral backing and determined by Aavegotchi traits. Some traits are very rare and need several Aavegotchi to complete all of the many games.
All of the wearables use ERC721 or ERC1155. Wearables affect the traits and rarity of the Aavegotchi and can be used digitally to win games or compete rarity-based rewards. Aavegotchi players will receive additional $GHST rewards if they have rare combinations of Aavegotchis.
Governance in Aavegotchi
Aavegotchi is implemented with the AavegotchiDiamond contract. It is a diamond that implements EIP-2535 Diamond Standard. All interactions on the platform are done using Aavegotchi Diamond contract.
Aavegotchi is a DAO governed game mechanism backed by the ERC721 standard used in popular blockchain games such as Cryptokitties, Axie Infinity, and Cryptovoxels. Users can also buy and sell wearables and consumables. Fees collected from mini-games will be used as a source of funding for further developments. DAO-governed sale of $GHST utility token (DAICO) will be redeemable for Aavegotchi collectibles as soon as the platform goes live on mainnet and burned upon use. GHST, its native token is currently trading at market cap $13,194,392 USD.
Users can stake ERC20 tokens listed on the Aave platform (aTokens) as collaterals. However, once AavegotchiDAO launches, the community will be able to vote on which new collaterals to allow.
Aavegotchi has a unique way to reward its users using Rarity farming that is designed to encourage rewarding through thoughtful gameplay and active participation from users. Players get rewarded in GHST tokens for training the rarest Aavegotchis.
Pixelcraft studios
Pixelcraft Studios Pte. Ltd. is a game development company based on blockchain. It also serves Aavegotchi as legal custodian responsible for building and launching AavegotchiDAO. It also looks after the roadmap of Aavegotchi protocol.
---
---