Bitcoin options are experience heavy volume as traders bet that prices could continue to sell off. One of the benefits of trading options as opposed to futures contracts or CFDs is that if you purchase options your loss is limited to the premium you pay for the option. According to Coindesk, trading volume on bitcoin options is a record high during the first 2-weeks of March. Option trading volumes have been increasing in 2020.
What is an Option on Bitcoin?
An option is the right but not the obligation to purchase or sell an asset at a specific time on or before a certain date. A call option is the right to buy an underlying asset. A put option is the right to sell. When you purchase an option, you pay the seller a premium, for the right to either buy or sell an underlying asset.
The price that you agree to either purchase or sell the underlying asset is referred to as the strike price. Each option has a date when the right terminates which is called the expiration date. Depending on the type of option you purchase or sell, you can exercise the option either before the expiration date (American style option) or on the expiration date (European style option).
Blowout Volume
Some of the major option exchanges reported record volumes in March. Coindesk, a major crypto exchange reports that the CME, Deribit, LedgerX, Bakkt, OKEx, CME posted total option trading volume of $198 million, surpassing the previous record high of $171.3 million. According to the report, Deribit, the world's biggest crypto options exchange by volume, contributed nearly 86 percent, or $170 million, of the total trading volume on Monday. Chicago Mercantile Exchange (CME) traded $2.1 million. Option trading volumes have been buoyed all-year.
Benefits of Trading Options
There are several benefits of trading options compare to contracts when markets are volatile. This is because you can leverage using options as well as the only risk is the premium. If you buy a put option on BTC/USD the most you can lose on the trade is the premium you pay for the option.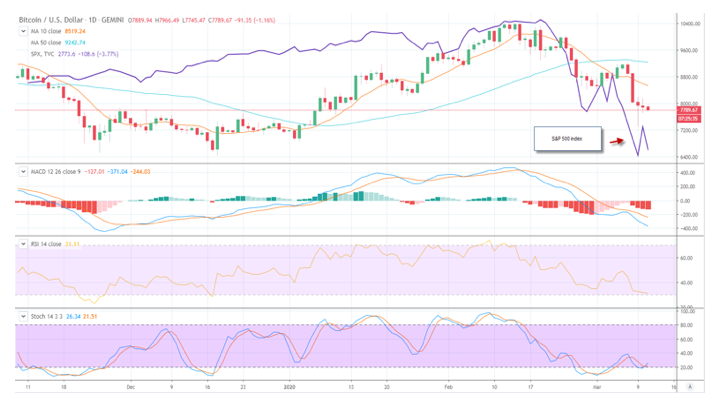 Bitcoin prices have been on a downtrend and have moved lower in tandem with riskier assets. As US stocks started to decline rapidly in mid-February, bitcoin prices have moved lower in lockstep. The move in the two assets is highly correlated. This also poses another problem for cryptocurrency investors.

One of the most compelling argument for trading cryptocurrencies like bitcoin is the lack of correlation to other assets. This means that you can own bitcoin and do not have to work that it will drop in value when stocks drop in value. Unfortunately, this experiment has failed just as investors needed bitcoin to be uncorrelated with stocks.

While medium term momentum on bitcoin prices remains negative as the MACD (moving average convergence divergence) histogram prints in the red with a downward sloping trajectory, short term momentum appears to be turning positive. The fast stochastic recently generated a crossover buy signal which points to accelerating positive momentum.

____________________________________________________________________________________________________


Disclaimer: This is a guest post by Debbie Wilson. Article on this page is author's work and has not been created, verified or edited by EtherWorld.co. The liability for the same solely rest with them. To publish press release, project update and guest article with us, please email at contact@etherworld.co.

The information contained in this web page does not constitute financial advice or a solicitation to buy or sell any cryptocurrency contract or securities of any type. Trading is a highly risky activity. You should conduct your own research, review, analyse and verify the content before relying on them. Readers are suggested to fully understand all risks associated with any kind of investing they choose to do.

Subscribe and follow us at Twitter, Facebook and LinkedIn

____________________________________________________________________________________________________

---
---