EOS, a blockchain based project, founded by Dan Larimer is facing serious allegations. Recently, an Excel spreadsheet - "Huobi Pool Node Account Data 20180911" was circulated in the EOS community. It is believed to be an accidental leakage of Huobi as the alleged author is Shi Feifei, an employee of Huobi.
According to the rough translation of the analysis document, four data-specific spreadsheet fully expose the mutual voting and sharing of proceeds from producing blocks in EOS. Main allegation as per the document are:
Mutual vote exchange, benefit sharing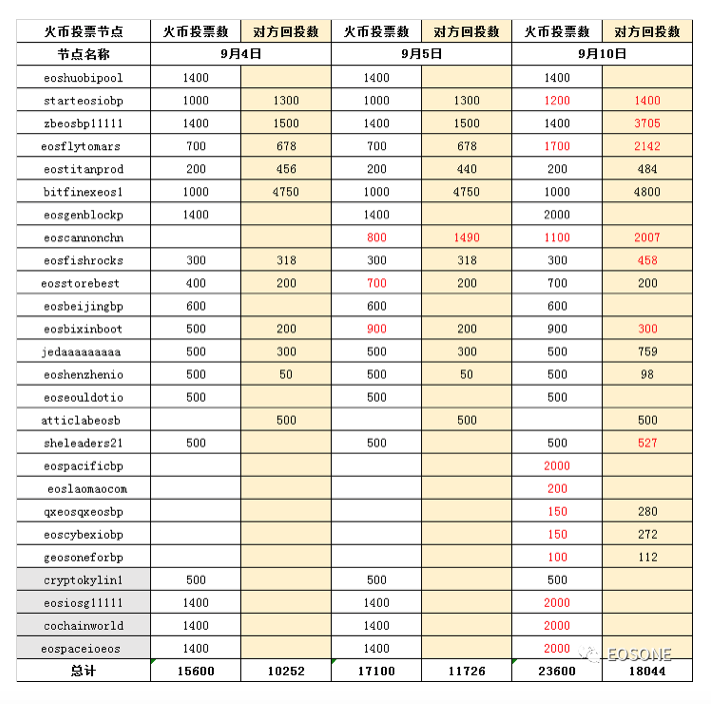 The above table is the data of mutual investment from September 4, 2018 to September 10, 2018.
The document shows Huobi votes for 20 Block Producers (miners) in EOS with 16 of them voting for Huobi in return.
Controlling the node to easily earn dividends
The analysis shows that Huobi supports seven standby nodes, with a monthly income of at least 1.7 million yuan. These 7 nodes were proposed by the shEOS node on August 25, 2018 with no public nodes, no website, no ownership information, no node interaction, etc. In order to avoid too much swaying, the Huobi seems to have abandoned the simple and rude support of the "four no" node and changed to support the "normal" node. Most of these nodes have public websites, and some even have project-related information.
eospace: 170 EOS proceeds are returned to eospace, and the rest are returned to Huobi;

cochain: 150 EOS proceeds are owned by cochain, and the rest are returned to Huobi;

eosiosg: half of the proceeds are returned to eosiosg, and half are returned to the Huobi;

cryptokylin1: No gains.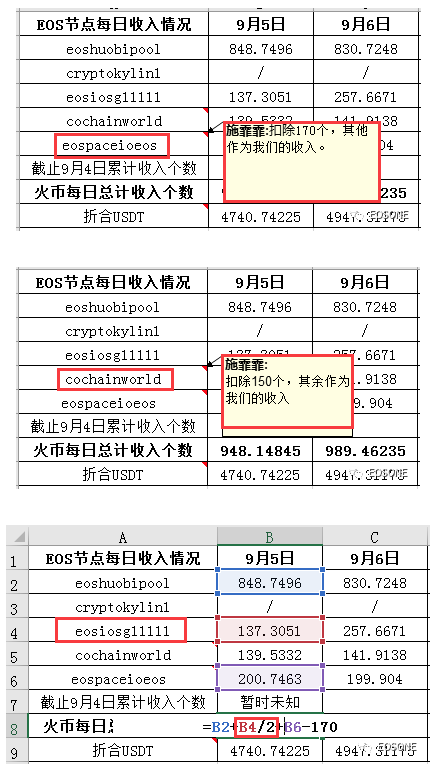 Using these arrangements allegedly Huobi earns 1,116 EOS per day during the period from September 5 to September 11, 2018. Which is currently worth about $6,000 a day. This calculation is based on support of the six "four no" nodes, and one of the nodes currently supported has no EOS income. If Huobi increase the voting power on these nodes, then the income will increase several times.
According to Maple Leaf Capital says,
"Huobi is now pushing their HPT token -- which if I'm not mistaken is blatantly sharing the EOS block rewards with HPT holders in exchange for EOS lock-up."
Unexpected exposure node voting account
Few months back, u/Lannisan shared a research which reveals that the ownership in EOS is highly concentrated, with just 10 addresses holding about 50% of all tokens. If all 10 of them agree to do the same thing, no one would be able to stop them.
Etherum cofounde Vitalik, responded, "The problem I have with "preventing our social system from falling into nasty equilibria requires eternal vigilance" is that human capacity for eternal vigilance is limited, and activism fatigue is a real thing. Best to minimize incentives for collusion from the start."
He further said,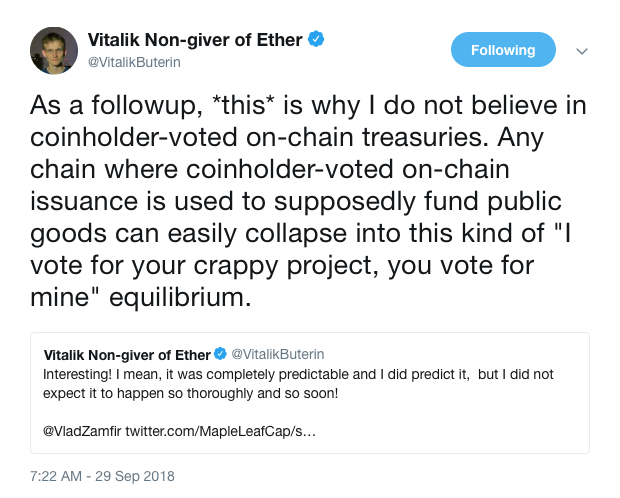 EOS is a development platform designed to make production of high performance dApp fast and scalable. They adopted an year long token sale starting from June 26, 2017 to raise fund.
Source: EOSONE
Read more about EOS:
____________________________________________________________________________________________________


Disclaimer: This is not an investment advice and should NOT be viewed as project endorsement by EtherWorld. Readers are suggested to do their research before investing into any project.

Follow us at Twitter, Facebook, Google+, Medium and Steemit.

____________________________________________________________________________________________________

---
---