In the best interest of residents of State of New York involved in cryptocurrency trading, the Office of Attorney General (the "OAG") launched the Virtual Markets Integrity Initiative. They believed consumers and investors deserve to understand how their financial service providers operate, protect customer funds, and ensure the integrity of transactions.
As per the report, it was voluntary participation by the exchanges to provide basic practices and functionality adopted by them.
Nine of the thirteen platforms participated in the Initiative:
Bitfinex (operated by iFinex Inc.), bitFlyer USA, Inc.,
Bitstamp, Ltd.,
Bittrex, Inc.,
Coinbase, Inc.,
Gemini Trust Company,
itBit (operated by Paxos Trust Company),
Poloniex (owned by Circle Internet Financial Limited), and
Tidex (operated by Elite Way Developments LLP).
HBUS – a U.S. "strategic partner" of Huobi Inc.
Four platforms claimed they do not allow trading from New York and declined to participate.
Binance Limited,
Gate.io (operated by Gate Technology Incorporated),
Huobi Global Limited, and
Kraken (operated by Payward, Inc.)
The OAG investigated whether those platforms accepted trades from within New York State. Based on this investigation, the OAG referred Binance, Gate.io, and Kraken to the Department of Financial Services for potential violation of New York's virtual currency regulations. Kraken, however objected being listed as platform for potential violation of New York's virtual currency regulations.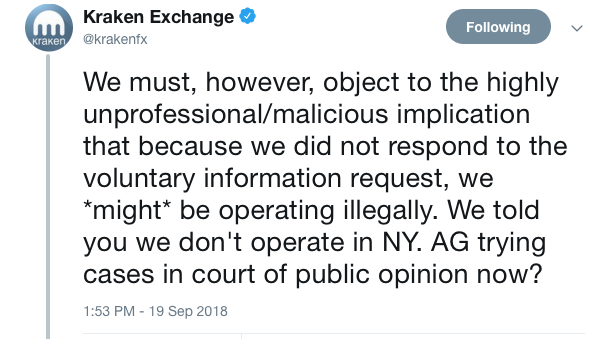 The Virtual Markets Integrity Report
The Virtual Markets Integrity Report addresses areas of particular concern to the transparency, fairness, and security of virtual asset trading platforms, and highlights key policies and practices of the responding platforms. The Report includes the following five sections:
Section I: Jurisdiction, Acceptance of Currencies, and Fees.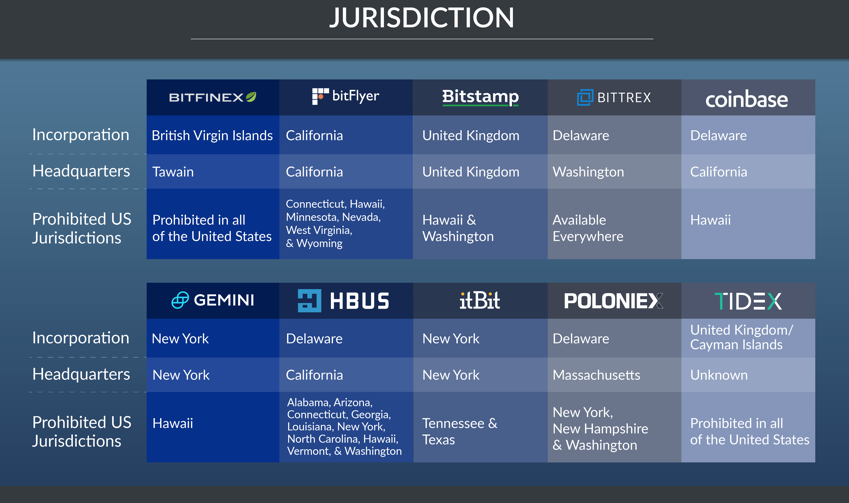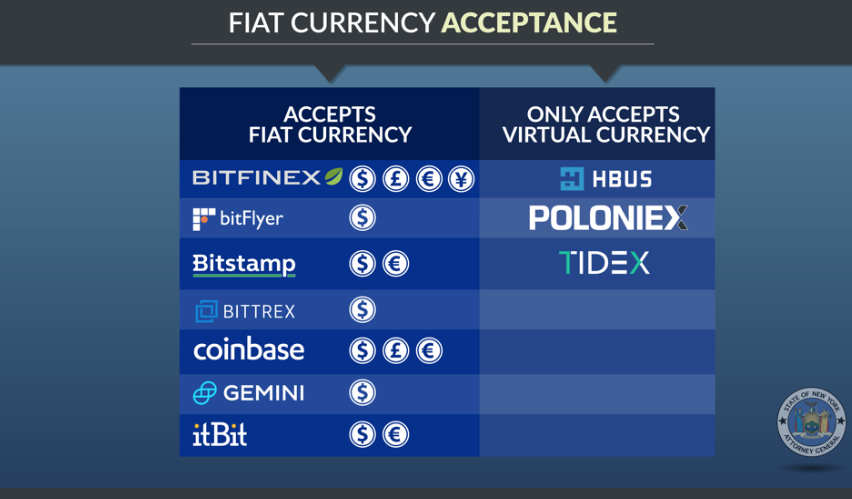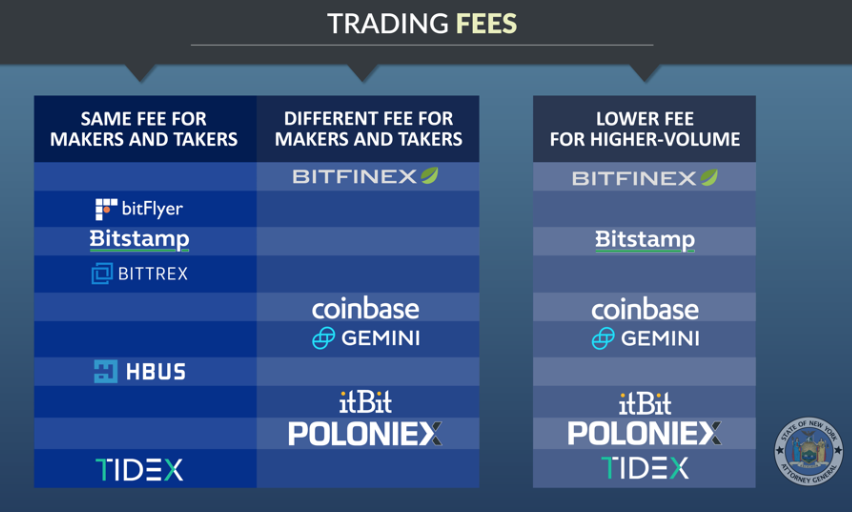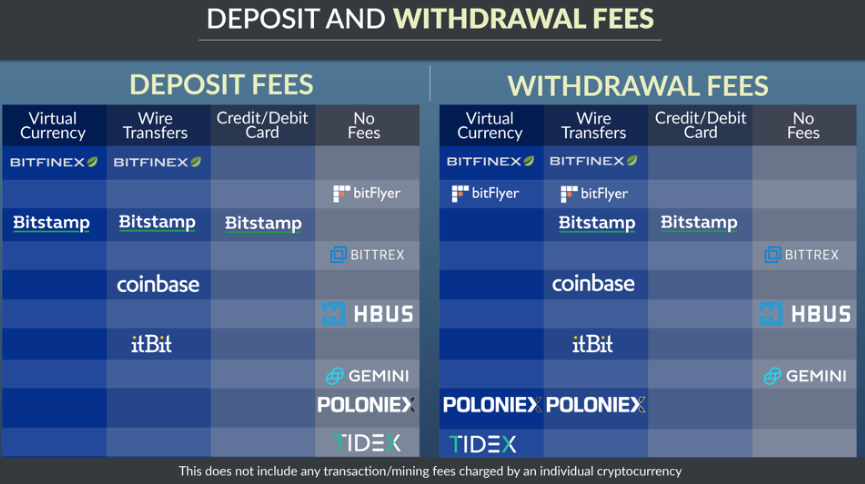 Section II: Trading Policies And Market Fairness.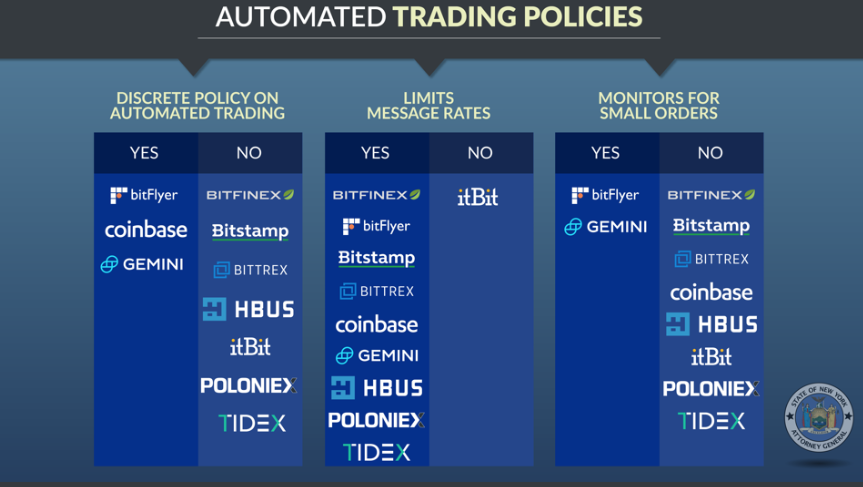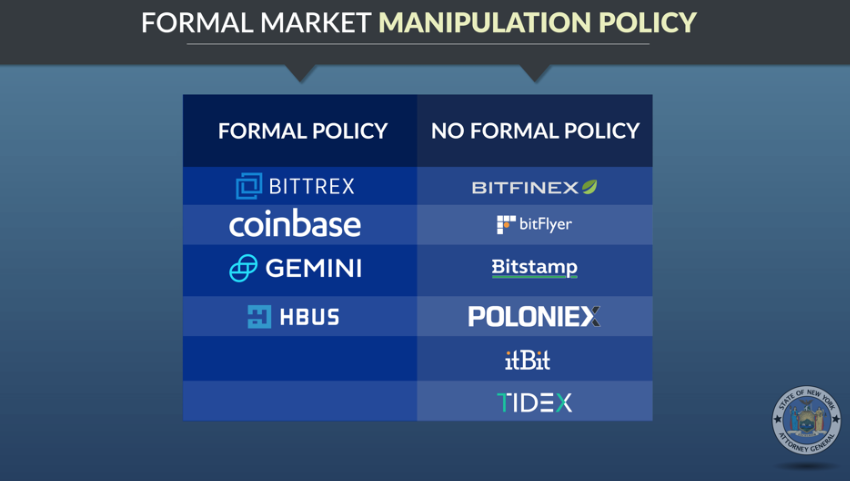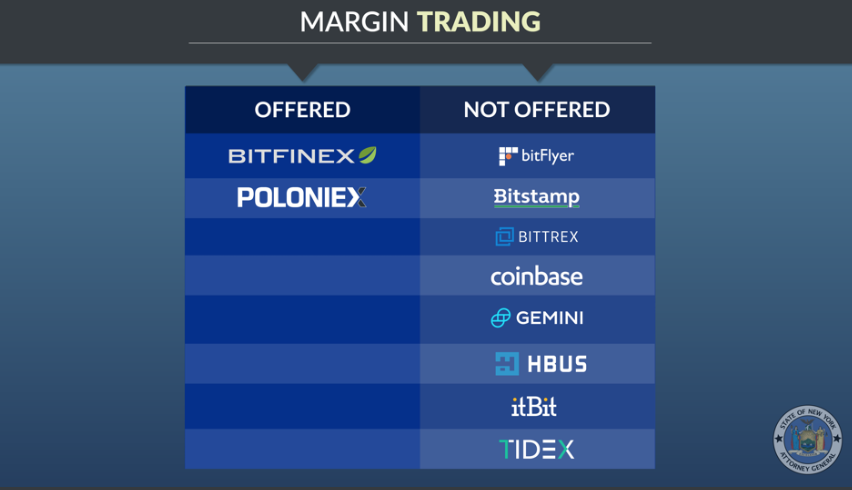 Section III: Managing Conflicts of Interest.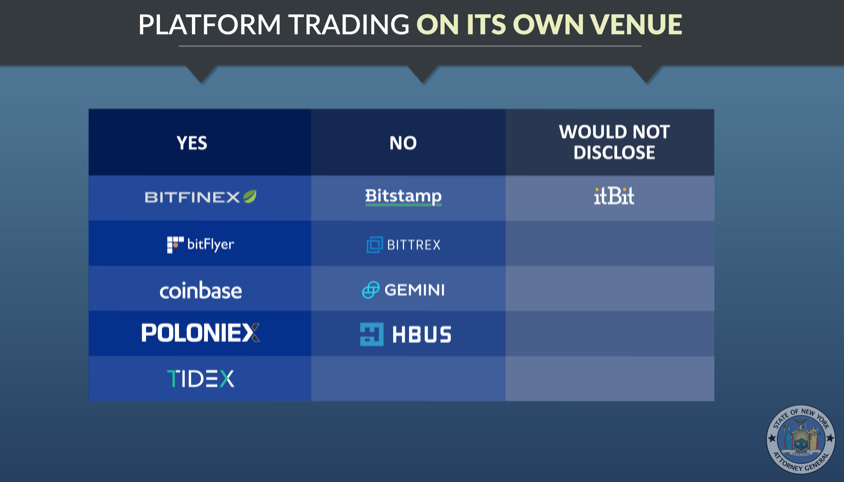 Section IV: Security, Insurance, And Protecting Consumer Funds.
All participating platforms reported to offer two-factor authentication for customers in certain circumstances, the better practice is to require two-factor identification by default.
Most participating platforms purport to keep a high percentage of the virtual currency in their possession in so-called "cold storage." Tidex provided no meaningful response
Most participating platforms reported to the OAG that they hired independent security consultants to conduct penetration testing for Data Security and shore up their systems against intrusions. Two participating platforms—Bitfinex and Tidex— did not.
Section V: Access to Customer Funds, Suspensions, and Outages.
On most platforms, customers are not able to withdraw fiat or virtual currency during a suspension or outage, although one platform, bitFlyer USA, noted that customers can withdraw fiat and virtual currency during its daily scheduled maintenance.
Key Findings on the State of the Virtual Markets
This report provides some interesting non-public information on our cryptocurrency trading platforms. (Must read for comparative analysis of exchanges.)
The Various Business Lines and Operational Roles of Trading Platforms Create Potential Conflicts of Interest.
Trading Platforms Have Yet to Implement Serious Efforts to Impede Abusive Trading Activity.
Protections for Customer Funds Are Often Limited or Illusory.
The OAG hopes to educate customers, and to encourage the virtual asset marketplace to adopt policies that ensure the integrity of transactions.

The Virtual Markets Integrity Report was prepared by Senior Advisor and Special Counsel to the Attorney General Simon Brandler, Senior Enforcement Counsel John Castiglione and Assistant Attorney General Brian Whitehurst of the Investor Protection Bureau, and Assistant Attorney General Joseph Mueller of the Consumer Frauds & Protection Bureau, and overseen by Investor Protection Bureau Chief Cynthia Hanawalt and Chief of Staff Brian Mahanna.

Images source: Report

____________________________________________________________________________________________________


Disclaimer: This is not an investment advice and should NOT be viewed as project endorsement by EtherWorld. Readers are suggested to do their research before investing into any project.

Follow us at Twitter, Facebook, Google+, Medium and Steemit.

____________________________________________________________________________________________________

---
---