Craig Steven Wright who publicly identified himself as the main part of the team that created Bitcoin, is being sued over stolen Bitcoin. The $10 Billion lawsuit was filed by Boies Schiller Flexner lawyers Devin "Velvel" Freedman and Kyle Roche of Dave Kleiman's estate.
Dave Kleiman was a computer genius, who is linked to Bitcoin's Origins. According to Gizmodo, in the early 2000s, Kleiman began contributing to computer security mailing lists such as those maintained by securityfocus.com and metzdowd.com, the latter of which was also used by Satoshi Nakamoto in the early days of Bitcoin. Satoshi Nakamoto presented the framework behind Bitcoin in a paper submitted to the Metzdowd list in 2008, and the first iteration of its software in 2009. Dave Kleiman was found dead in his home in 2013.
The lawsuit claims that shortly after Dave's death, Craig employed an elaborate scheme to steal between 550K and 1.1M Bitcoins and other intellectual property owned by W&K Info Defense Research LLC - a Florida company Dave owned.
The complaint publishes documents evidencing a long history between Craig and Dave, including documents demonstrating their early involvement in Bitcoin mining. Interestingly, while the complaint discusses Craig's claim to be Satoshi, it seems to really focus on evidence Craig and Dave mined bitcoin – as Satoshi's identity is irrelevant to whether Craig stole from Dave, says a redditor at the Bitcoin community.
Craig Wright claims to be Bitcoin creator, reported BBC in 2016. Not everyone was convinced by Mr Wright's claims and the technical proof he put in his blog. Some cryptographers and developers who worked through the information provided said they had trouble getting verifiable information out of it.
Craig's is mostly silent on twitter, being asked about the lawsuit he replied a word only.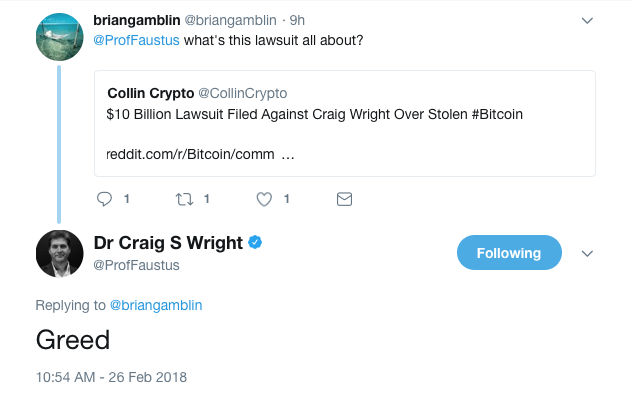 Craig is found advocating Bitcoin Cash lately, stating it carries the real value of Bitcoin core. He has strong community support. We hope the community should witness the truth over this lawsuit soon.
____________________________________________________________________________________________________
Disclaimer: This is not an investment advice and should NOT be viewed as project endorsement by EtherWorld. Readers are suggested to do their research before investing into any project.

For more articles on blockchain technology, follow us at Website, Twitter, Facebook, Google+ and Steemit. To receive weekly newsletter, subscribe here. Publish Press Release and list ICO at our website.
---
---