The IOTA Foundation is official launched as a registered not-for-profit entity ("gemeinnützige Stiftung") under German law. Founder of IOTA David Sønstebø said,
"After more than a year of painstaking preparatory work, the Foundation was officially incorporated in Berlin on November 3rd by signature of the State Secretary for Justice. We are exceptionally proud to become the first fully regulated not-for-profit foundation in Germany to be capitalized with a crypto-currency (IOTA Tokens)."
Now that they have the legal and monetary pillars in place, IOTA foundation shared its foundation structure.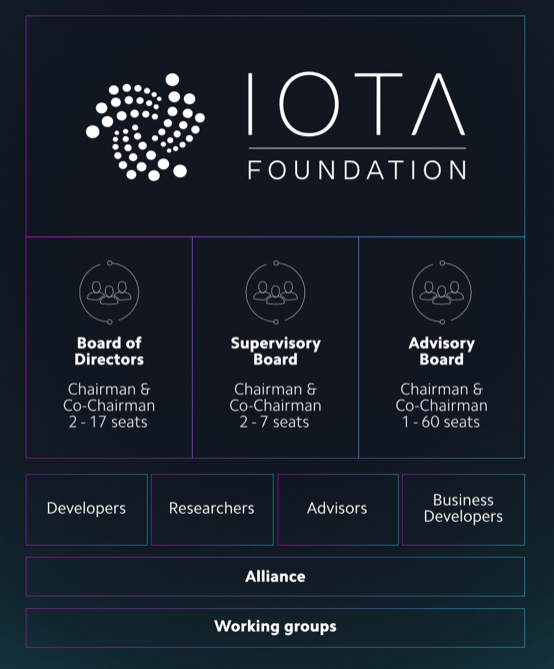 The Foundation will be steared by its board of directors with a supervisory board ensuring everything is done properly and an advisory board that will provide expert input.

The core of the foundation is the developers, researchers, advisors and business developers which will build and drive adoption of the IOTA protocol.

The Alliance will consist of multinational conglomerates, start-ups, research institutions and other non-profit organizations.

All of this will be again make up the different domain specific working groups.
IOTA is the first cryptocurrency without a blockchain, that aims to establish itself as the fuel for efficient machine-to-machine (M2M) transactions. It uses directed acyclic graphs (DAG) instead of a regular blockchain, enabling various features like zero-cost transactions, infinite scalability or offline transactions.People can transfer money through IOTA, even infinitesimally small nanopayments can be made without any fees. IOTA will be added to Okex and Bittrex soon.
The ambitions behind the whole IOTA project are unprecedented in that it disrupts already disrupting technology. However, it had to face some criticism this year when serious vulnerability by Neha Narula, Director, Digital Currency Initiative at the MIT Media Lab was reported. A couple of weeks later Nick Johnson, a renowned core developer of Ethereum also published his concerns with IOTA blog highlighting IOTA's critical technical and social issues.
IOTA has a lot of unique opportunities as well as obstacles. Over the next few weeks, they will announce more high-ranking executives, technologists and politicians who will join the IOTA Foundation and elucidate the first working groups, as well as the first major projects the Foundation is embarking on.
For more updates, technical blogs and general discussion on Blockchain Technology, please Subscribe and follow us at Twitter, Facebook and Medium. You can also reach us at contact@etherworld.co.
---
---