Alex Tapscott, the co-auther of the book "Blockchain Revolution" has been accused of falsely adding names of blockchain stars as advisors in an investor document of his Crypto VC Firm the NextBlock Global in recent days.
In a press release on November 5, 2017, the Canadian firm NextBlock Global announced that it is no longer doing a go-public transaction
According to the release, the company says,
"Our first responsibility is to our existing investors and we believe this is the right course of action for all stakeholders.

We strive to always act in the best interest of our investors and we are in the process of reaching out to each of them to discuss next steps, including the return of their original investment, timing, and participation in any profits.

As a young company, we have stumbled in our efforts to take our company public and we will work hard to rebuild the trust of those we have disappointed.

Going forward, we remain as confident and excited as ever about the promise of blockchain technology."
November 1 : False listing of advisors stroy breaks out
The Security Exchange Commission (SEC) has issued a Statement on Potentially Unlawful Promotion of Initial Coin Offerings and Other Investments by Celebrities and Others on November 1, 2017. The same day, it was revealed, that an investor deck (of NextBlock Global) was sent out by a broker via email on October 19, 2017, listing eight advisors.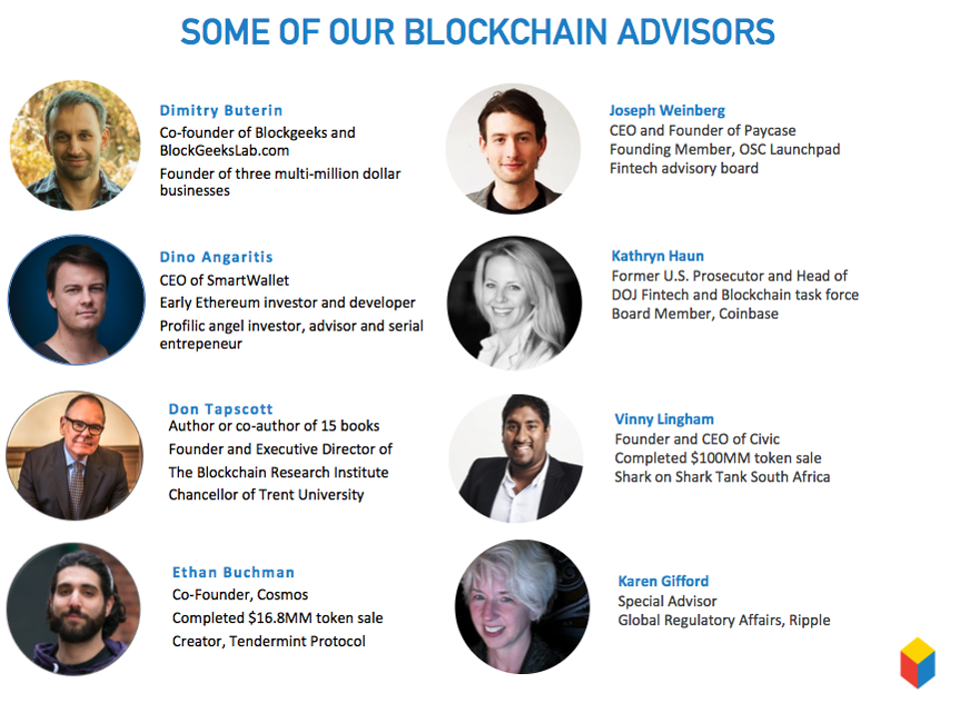 Source: Forbes
Four out of eight listed - Dmitry Buterin, Kathryn Haun, Vinny Lingham and Karen Gifford, denied to be onboard. They were either unaware or had already declined the offer. The size of the raise was also increased from $50 million CAD to $100 million CAD ($77 million USD) subsequently.
When enquired about the falsely named advisors Tapscott told Forbes,
"This is all so ridiculous, because I'm not raising money on the back of these advisors. I currently have an order book for this financing of $250 million. To me that's really the big story. None of the folks have invested based on the people who are in the deck, including obviously the ones who agreed to be advisors to the company."
November 3 : CIBC withdraws support
Canadian Imperial Bank of Commerce (CIBC) and Canaccord Genuity were underwriters on the deal. Cannacord would not comment on their continued involvement but CIBC pulled out of the deal. Clients of CIBC received an email on Friday, November 3, 2017, stating: "CIBC has withdrawn as an agent from the NextBlock Global Limited private placement."
November 5: NextBlock Global announced it is no longer doing a go-public transaction
NextBlock Global, a digital asset investment company announced the closing of an oversubscribed $20 million financing on July 31, 2017 at Toronto. "NextBlock is one of the first entities in the world through which investors will be able to invest in a cross-section of blockchain-based digital assets," NextBlock said in a press release.
Alex Tapscott made his appearence in Blockchain Summit 2017 organised by The Chamber of Digital Commerce, along with Georgetown University's Center for Financial Markets and Policy, at Washington, DC on March 15-16, 2017. He announced the formation of a multi-million dollar Blockchain Research Institute (BRI) in Toronto, Canada and listed Andreas Antonopoulos the well-known blockchain and Bitcoin author and speaker as "proposed faculty". Andreas declared on Twitter,
"I did not agree and will not be part of the Blockchain Research Institute as "proposed faculty". The announcement saying that is false."
Misleading innocent public by listing advisors (who are actually not a part of the project) may not be his first time. However, Don Tapscott told Forbes via email,
"As we were conceiving the Blockchain Research Institute we selected some candidates that we knew and respected as exemplary of the type of person when intended to engage as faculty. At no time did we ever represent or even suggest to anyone that these individuals would in fact become faculty."
More Misrepresentations were found, the photo of an advisor, Dino Angaritis, CEO of SmartWallet, was not of Angaritis. The Globe and Mail reported (paywall) the photo "appears to be that of Luke Carman, a published fiction author in Australia, whom the Sydney Morning Herald deemed the Best Young Novelist in 2014 for his novel An Elegant Young Man."
The decision of finally not going public for fund raising and returning investors money may be the first step of NextBlock Global towards regaining confidence of investors. However, this series has dented the image of Tapscotts for sure.
For more updates, technical blogs and general discussion on Blockchain Technology, please Subscribe and follow us at Twitter, Facebook and Medium. You can also reach us at contact@etherworld.co.
---
---