Ha! Everybody knows what a wallet is (at least I hope everyone does :P). It's a place where people store their cryptocurrency. In the crypto world, A cryptocurrency wallet is a secure digital wallet used to store, send, and receive digital currency like Bitcoin and Ethereum.
Bitcoin has been established for a significant period of time. On the other hand, Ethereum currently has the second largest market cap after Bitcoin. Because of this, many investors are now flocking to Ethereum. Naturally, this has surged demand for more secure Ether wallets. Therefore, we felt the need to educate those out there who were looking for some knowledge and those who are new to this ever-expanding world.
Types of wallets
Wallets can be categorized mainly on two important features –
Security – Wallet can't be accessed easily as private key remains offline mostly.

Accessibility – Wallet access is easier
Depending on the need of the user, various Ether wallets are available today
Desktop - for developers

Mobile – for frequent transactions in bill payments

Web – for money transfer purposes

Exchange – investor or daily trader

Hardware and Paper – for long term investment
Storage of private key can be another way of classification of cryptocurrency wallet. It can be
Online – Desktop, Mobile

Offline – Hardware, Paper, Web

No control - Exchange
There are many different types of wallets you can use including online, offline, mobile, hardware, desktop, and paper. The classification is mainly for differentiating the medium where the private key is stored. Some wallets make it easier for frequent traders, and others prioritize security and can be a bit of a hassle to frequently trade with. There is often an inverse-relationship between accessibility and security.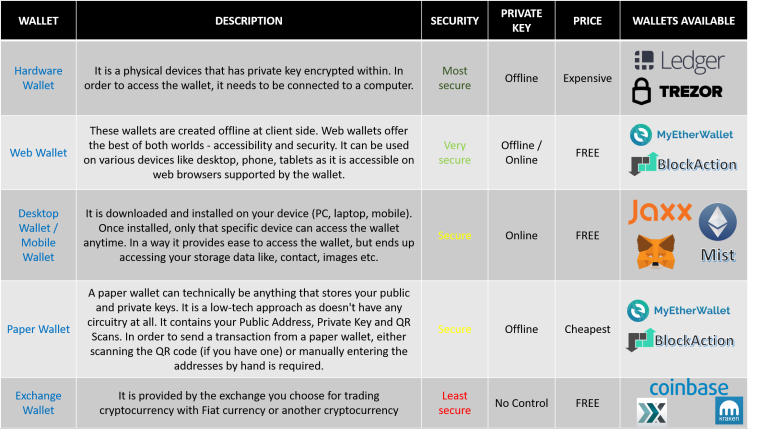 Now, let's talk about popular Ether wallets available.
The Ledger Nano S is one of the best hardware wallets available in the market because it is user friendly and has a screen for easy control. The Ledger Nano S stores ether offline and requires users to sign transactions with their private key in order to spend ether.
Additionally, the Ledger Nano S has an option to create a recovery seed to recover your private keys if the device is lost or broken. Users can set a 4-digit pin on the physical wallet itself, which is an extra element added to prevent keylogging. You can store both Ether(ETH) & Ethereum Classic(ETC).
TREZOR was the first hardware wallet invented for Bitcoin. However, now TREZOR can be used for Ether too with the MyEtherWallet web interface. It also stores ether offline on a secure electronic chip which can be activated only when you log in with your password.
TREZOR also uses a limited USB connection, meaning that it can even safely interact with computers that may have been compromised or infected.
It fits into your palm, it is water and tamper-proof and extremely durable (CE and RoHS certified – quality, reliability and environment standards).
Mist
Mist is the official Ether wallet. When you install Mist, it takes a while to get started as it synchronizes with all Ethereum nodes. Security is in the form of a password, but if you forget this there is now ay to recover your data/money.
In the wallet, you will have access to a pair of public and private keys to perform transactions. Being the official Ether wallet, Mist supports smart contracts.
MetaMask is one of the best desktop wallets available out there. MetaMask is a bridge that allows you to run Ethereum decentralized Apps (dApps) right in your browser without running a full Ethereum node. MetaMask includes a security identity vault, providing a user interface to manage your identities on different sites and sign blockchain transactions.
Jaxx is a multi-asset wallet which supports 13 cryptocurrencies (including ETH) and has an elegant design with robust security features. On Jaxx, private keys never leave the device, and features like seed keys enable you to restore your funds whenever required.
Also, the Jaxx codebase is auditable on their website and therefore support smart contracts. It is supported on all platforms - Desktop (Windows, Mac OS, Linux), Extension (Chrome, Firefox), Mobile/Tablet (Apple, Android).
Coinbase, a web wallet, is the simplest and easiest to use compared to other options on this list. You can buy Ether, Bitcoin, and Litecoin with fiat currency, and keep your cryptocurrencies secure.
Since the private keys are stored on Coinbase's hosted servers, you ultimately don't have any control over your keys. Thankfully, Coinbase is extremely credible, safe and trustworthy.
Their wallet works on Android and iPhone, along with your web browser. Also, any digital currency lost is covered under their insurance policy.
It is a free, open source, client-side wallet which does not rely on third-party servers to operate. Instead, everything takes place on the user's computer, which means the service will always be accessible. This means you can generate new wallets and store your ether without having to do it on MyEtherWallet servers. This also means you are fully responsible for safely backing up your wallet. Its deals in BTC and ETH.
The interesting fact about the MyEtherWallet is that it can be used to set up smart contracts. Something that no other wallet in this list can.
Blockaction is a new and upcoming web wallet by Avarch, aimed at simplifying the users experience of transactions. It exists on the client side allowing users to generate the private keys on the local computer. They provide free offline wallet creation facility which ensures complete safety of your wallet. You don't need to download entire node on your machine.
A user can go offline at the time of creation of wallet and connect back to the internet when password is chosen and private key is downloaded or saved somewhere safe.
They help keep track of all aspects of a transaction in real time for the users' convenience. It supports both Bitcoin and Ether.
Kraken is a prominent US based Bitcoin exchange operating in the US, Canada, Japan and the European Union. It is ranked the world's largest bitcoin exchange in euro volume and liquidity. It prides itself n fast funding and a low fees bitcoin dark pool. They also provide year round support.
They are a US-based digital asset exchange offering maximum security and advanced trading features. The vast majority of customer deposits are stored offline in air-gapped cold storage. They only keep enough online to facilitate active trading, which greatly minimizes risk and exposure.
When looking for a secure cryptocurrency wallet, keep an eye out for the following four features:
Private key is accessible to you only and not exposed to internet.

A reputed development team is behind the wallet and it has community support.

It has simple user interface.

Compatibility with different operating systems.
Save yourself the trouble and find a wallet that suits your requirement. Ensure Security and backup.
It's silly to lose all your coins because you stored you lost private key, so ALWAYS back up your wallet.

Add 2FA security to your wallet to prevent from theft, wherever available.

Subscribe newsletters of your wallet provider to stay updated with any upgrade or threat announcement. The more you know, the better off you will be in investing and protecting your cryptocurrencies.
For more updates, technical blogs and general discussion on Blockchain Technology, please join us at our Website, reddit, Facebook, Medium, Slack and follow us at Twitter. Please feel free to share this post, email us with your suggestions.
*Update: Topic title and image updated
---
---