Metropolis, the third phase of Ethereum roadmap proposed in 2015 is not far away. As announced earlier, Metropolis is split into two hard forks:
Byzantium

Constantinople.
Byzantium
According to GitHub, a total of nine Ethereum Improvement Plan (EIP) have been accepted for Byzantium.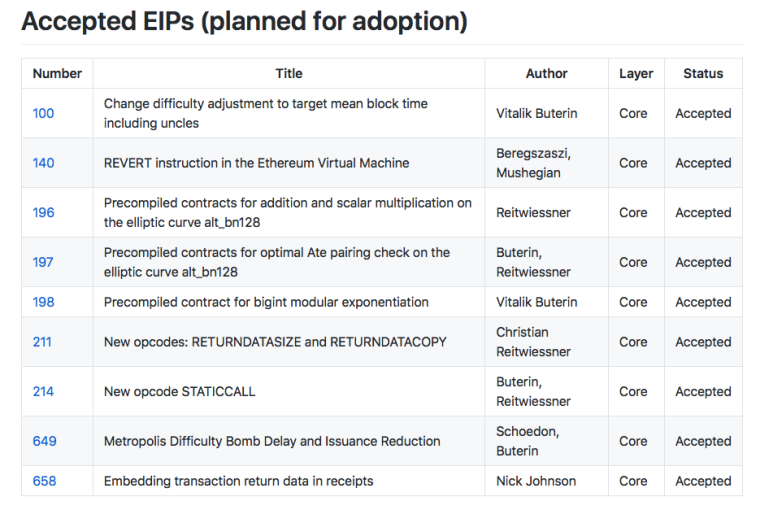 Moving closer to Metropolis, Byzantium is released on Ropsten testnet officially on Monday, September 18, 2017. So far, everything is running as expected. It verified ZK-SNARK and Zcash transaction following the fork on the blockchain.
Considering everything goes smoothly, today (September 22, 2017), in Core Developers Meeting the team decided on the probable block and possible date for hard fork on main net. Earlier, it was planned on Block # 4.35 million (approx. October 9, 2017) but now it has been postponed to Block # 4.37 million (approx. October 17, 2017). Vitalik Buterin, the founder of Ethereum wanted the hard fork to happen by late October but team suggested that it will be too close to the upcoming Devcon 3 meet (November 04, 2017).
Byzantium hard fork is almost certain on October 17, 2017 unless something goes wrong. According to a post on reddit, Ropsten, the test network was attacked by malicious miners, spamming contract creation transactions that fill 99% of the block gas limit. Hence, Ropsten was experiencing issues with processing transactions. It is difficult to understand the intention of attacking the test net as no real Ether ( ETH) is involved in transaction. According to Vitalik Buterin , the attack was "fairly inconsequential."
Other Clients Geth, Parity, CPP, EthJ and EthJS also showed successful transaction for Byzantium testing.
For, Live infographic of the Byzantium fork on Ropsten, click here.
Constantinople
The Constantinople Metropolis hardfork implements EIP 86 & 96. It may be released in early 2018.

For more updates, technical blogs and general discussion on Blockchain Technology and Ethereum, please join us at our Website, Facebook, Medium, and Twitter.
ethereum #metropolis #hardfork #byzantium #blockchain #cryptocurrency
---
---