South America is one of the hardest hit continents for COVID-19. The number of infections reported by the Venezuelan government is likely underreported, suggests a report by Amnesty International. To support the fight against the novel coronavirus pandemic, financial startup Circles announced to provide financial aid to the frontline workers of Venezuela. Circle has partnered with the Bolivian Republic of Venezuela led by President-elect Juan Guaido and Airtm with support from the US government. It will distribute stablecoin USDC to help the country come out of economic hyperinflation and survive the pandemic. The country is going through tough economic hardship forcing medical workers to quit their jobs. As a result, patients are facing repercussions. They are not getting the treatment and are left in the lurch.
The company believes that Nicolás Maduro's disastrous policies and improvident money printing led the country to suffer the impacts of hyperinflation, international isolation, and sanctions; implications of which the country is experiencing now. Corona Virus has overburdened the distressful situation of the country. the U.S. The Treasury and Federal Reserve will be releasing seized funds into the US bank account tied to Giado's government which will be used to mint USDC and distributed to the health workers.
How will the USDC work?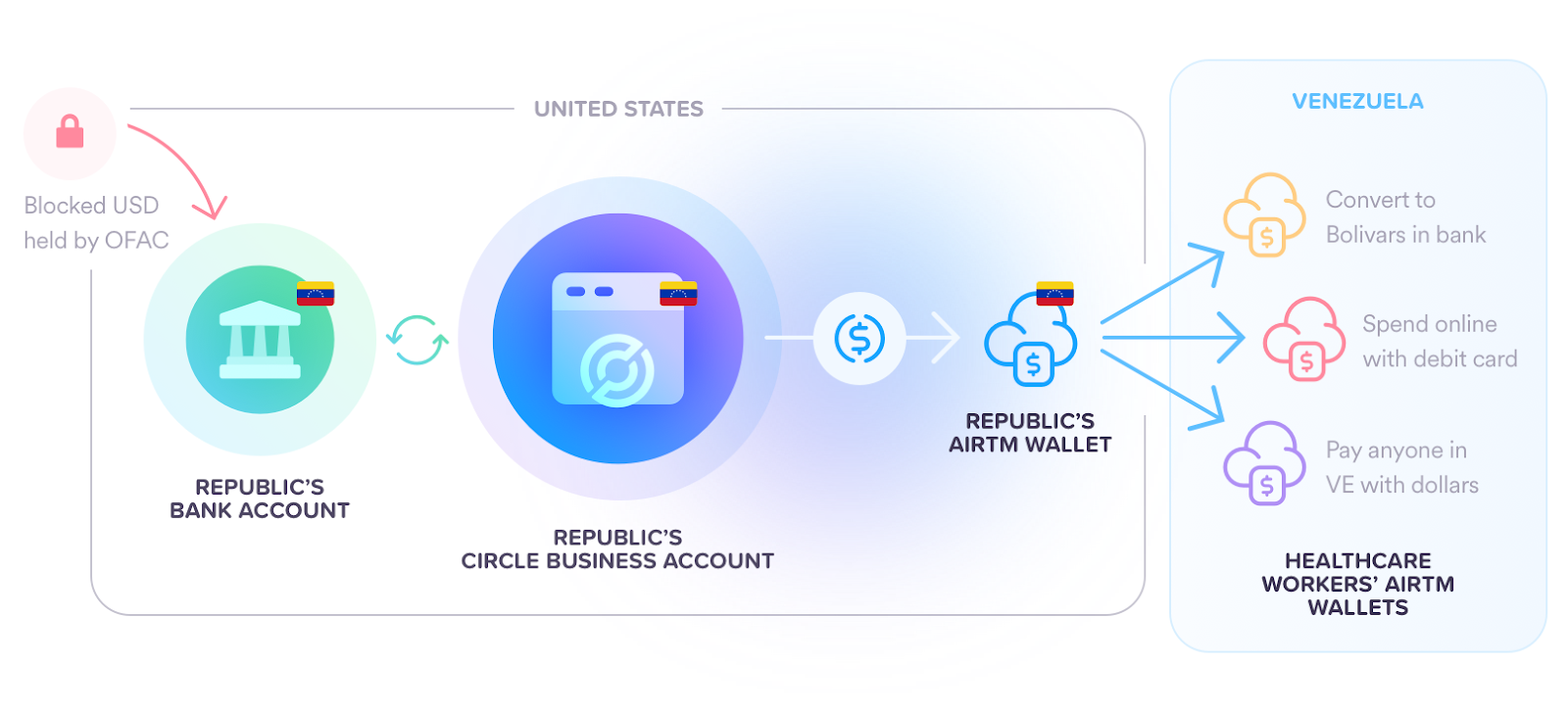 Circle believes that its USDC can rescue the people of Venezuela. It has come up with a USDC flow mechanism. The US Treasury and Federal Reserve will release seized funds that will be transferred to Juan Gerardo Guaidó's government's account at a US bank. Guaido's government will use these funds to first mint USDC. These will be sent to Airtm from where it would be distributed to the wallets of Venezuela healthcare workers in the form of AirUSD, a stablecoin backed by Airtm. It can then be withdrawn as bolivars at free-market rates and be used for other exchanges. Airtm's virtual debit cardholders can exchange the funds anywhere online without any bank's interference.

Circle enable tokenization of fiat currency through its stablecoin called USDC to operate across blockchains. It was the first issuing member of of the CENTRE network. Circle announced its native token USDC in 2018 which is a dollar-backed stablecoin and an ERC-20 token  meaning that 1 USDC is equivalent to the value of 1 US Dollar.
Airtm is a Mexico based fintech startup regulated by the US. Airtm currently has approximately 500,000 users in Venezuela. It helps consumers and businesses in countries with devaluing currencies, hyperinflation, and limited banking systems to exchange local money for cryptocurrencies or US dollars at the free market rate determined by exchanges on its decentralized peer- to-peer platform. Airtm's own virtual debit card helps to by-pass the Venezuela bank.
Venezuela was once the richest South American nation. But poor economic policies and political tension led the country towards experiencing hyperinflation and widespread unemployment. US sanctions have further fueled its economic crisis. Nicolas Maduro in 2018 declared national cryptocurrency- the Petro, to circumvent those sanctions. This step was taken to enable transactions in all currencies except for US Dollars. But due to its limited utility and acceptance, Petro failed to accomplish its purpose.
The US Department of Justice in March 2020 held Maduro and 14 other Venezuelan officials under the allegation of drug-trafficking, narco-terrorism and other crimes. In September this year, Venezuela issued a notice to regulate all cryptocurrency mining. For doing it, miners will need to meet certain requirements as specified by Venezuela's National Superintendency of Crypto Assets and Related Activities, or SUNACRIP.
This collaboration between Circle and Airtm is vital for not only help both the firms to extend their services but will also benefit the US to establish its hold on the region.
Photo credit: Unsplash
________________________________________________________
Disclaimer: The information contained on this web page does NOT constitute financial advice or a solicitation to buy or sell any cryptocurrency contract or securities of any type. Trading is a high-risk activity. Readers are suggested to conduct their own research, review, analyze and verify the content before relying on them.
To publish press releases, project updates and guest posts with us, please email at contact@etherworld.co.
You've something to share with the blockchain community, join us on Discord!
Follow us at Twitter, Facebook, LinkedIn, Medium and Instagram.
---
---