Blockchain has been recognized globally, with a variety of international organizations and technology companies highlighting the benefits of its application in reducing costs of operation as well as in improving efficiencies. Indian think tank, NITI Aayog recognized the potential and along with Gujarat Narmada Valley Fertilizers & Chemicals Limited (GNFC) experimented to implement Proof- of- Concept (POC) application and encouraging blockchain in agriculture. The quantity of the shipped goods is tracked on blockchain and the count is reported immediately. The project resulted in zero paper trails (a shift from manual to digital) and enhanced productivity.
BirthVenue, on October 24 is organizing an online webinar 'How blockchain going to change agriculture.' The purpose of the webinar is to let the audience know how blockchain is making an impact in various industrial sectors since blockchain has emerged to become a potentially transformative force in multiple aspects of government and private sector operations.
About the Speakers
Speakers, Sabarish Nair (Director of Operations, BirthVenue) and Tridibesh Bandyopadhyay (CEO, InQube Innoventures) will share thoughts on how Blockchains can enable the creation of 'smart contracts' in agriculture. This will be followed by a Q&A round where participants will get an opportunity to interact with the speakers.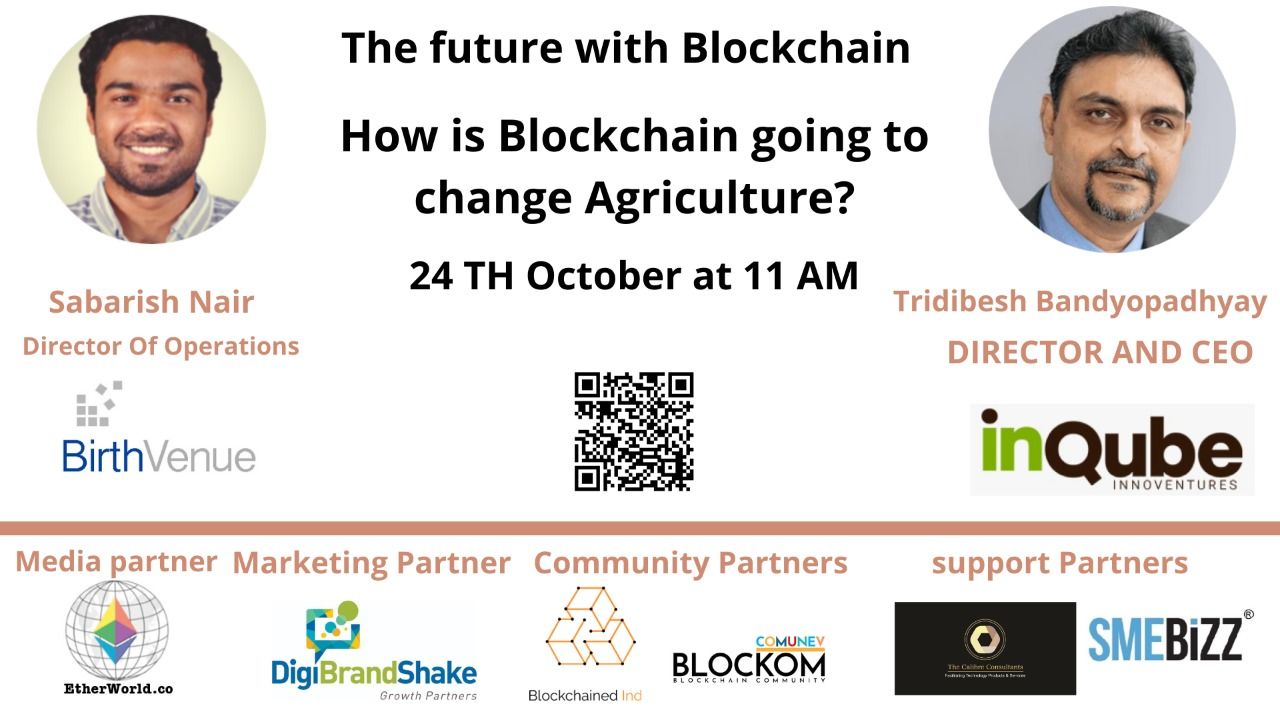 About BirthVenue
BirthVenue is a deep tech company that provides Blockchain and Enterprise Cybersecurity as a service. The company develops elegant solutions and platforms to empower successful businesses into new technology spaces. BirthVenue has worked in multiple verticals till now with a bunch of successfully launched products in spaces like Insurtech, Supply Chain, and Trade Finance. The company is also the winner of R3 Corda challenge India ( TradeFinance category).
Sabarish Nair is Director of Operations at BirthVenue Growth Solutions Pvt Ltd. He is a blockchain analyst with prime focus on integrating traditional systems with blockchain-based systems to drive adoption in enterprise solutions.
What is the vision behind BirthVenue?

There's all this hype over blockchain in enterprises. How could organizations use it? Even if they could, do they really need it? Very few organizations know the real fundamentals of Blockchain, and even fewer have the requisite resources and talent to execute. However, what is true is that everybody wants to embrace it. This is where we come in. BirthVenue is creating a virtuous Blockchain ecosystem for the country and beyond, via its two major divisions - platform development and up-skilling. Our platform work services companies, governments, NGOs, and organizations in analyzing, architecting, and developing Blockchain-based platforms for multiple verticals like insurtech, Fintech, Agritech, and supply chain. Whereas, our learning division is focused on up-skilling the youth of India for a fulfilling future and career prospects.
Which blockchain is used to develop the project and why?

We offer blockchain integrated solutions as one among our multiple services, others which include AI and Iot integrated solutions. So we essentially are a full stack modular technology platform. We don't just offer blockchain services to everyone. The decision to use blockchain solely depends on the use case or problem statement we receive. If your business is running perfectly without blockchain then 9/10 you probably don't need a blockchain integration. BirthVenue mostly uses Fabric. But we can work on others depending on project requirements.
What are your plans for bringing BirthVenue to mainstream adoption?

Since we are primarily a service oriented company, most of our client conversions come through inquiries and references from satisfied clients. As a result we are able to bring in solid customers with valid problem statements. People who really know where and how to use blockchain. We would obviously like to take on more smaller, mid-sized and larger clients. So to answer the question about going mainstream, until we are able to provide off the shelf plug in solutions, we would like to continue providing tailor made solutions to each of our clients.
How can blockchain be integrated with Indian agriculture which is overly exhausted with intermediaries?
It is true that intermediaries play major roles in driving the cost upwards of commodities, however we dont believe in using blockchain to completely remove them from the equation. For example you can expect a framer to operate a dashboard to place and track orders. However, by bringing all the participants on the network, everyone has the same view of the commodity in terms of quality, quantity, margins etc. This definitely brings an element of fairness to pricing and traceability that is valuable to lenders financing transactions.
Assets with physical representation like fertilizer and type of crops can change their form from time to time and depending upon the climatic conditions. How can digital representation be achieved in this case?
For the solutions we have created, we are not putting the commodities themselves on Hyperledger fabric. We record other key data like KYC, financial and transactional information on the chain. The assets themselves are digitally represented on the frontend. As the price of the commodities fluctuate daily, we see value in recording daily price data and transactions in relation as opposed to creating the digital assets on the chain for the same.
One of the key features of blockchain is the immutability. Indian agriculture pertains to land dispute records. Can consensus be reached on the state of the object or transaction?
By creating a digital counterpart to the asset, which in this is land, a blockchain can allow immutable records of ownership and related transactions. And in case of transfer of ownership or transactions like tax payments etc a consensus will have to be achieved between the participants on the established channels.
What legal support is expected from RBI for effective application of blockchain in India's largest primary sector?
For enterprise solutions, we don't really see a role for RBI to play. However, by defining regulations for tokenization and other crypto assets, RBI can open the gate to some serious disruptive solutions.
Is India ready to adopt blockchain over other technologies?
We dont believe blockchain is in some kind of competitive race with other technologies. Blockchain obviously have proven benefits to boost transparency, security, automation and the list goes on. But like mentioned above, it requires a use case that fits, usually industries that are fractured in nature, depend on middle men for operations and trust among the players are imperative. Solutions we have worked on include insurtech, Fintech, and Agri -supplychain, which are all perfect for blockchain solutions. With India having major players in these spaces, blockchain seems the logical way to go.

This event is an initiative to provide a deep understanding of how blockchain is seen as a technology with the potential to transform almost all industries and economies with central focus on agriculture. The company is organizing its next event on October 28 on the topic, 'Blockchain in marketing'.
Image: Unsplash
____________________________________________________________________________
Disclaimer: The information contained on this web page does not constitute financial advice or a solicitation to buy or sell any cryptocurrency contract or securities of any type. Trading is a high-risk activity. Readers are suggested to conduct own research, review, analyze and verify the content before relying on them.
To publish press releases, project updates and guest posts with us, please email at contact@etherworld.co.
---
---