Year 2017 carried a lot of success for Ethereum blockchain and community. It went through various ups and downs. Out of all major event was entering in Metropolis, phase - III of original proposed Ethereum blockchain roadmap. Metropolis is divided in two phase - Byzantium and Constantinople . Hardfork for Constantinople is expected in Q1, 2018.
Ethereum blockchain surpassed 13 tx/sec on Dec 31, 2017, which is an achievement for the team. Ethereum Core Developers are doing incredible job in order to provide faster and secured transaction on the Ethereum blockchain.
Vitalik Buterin said,

Other than achieving major milestones, ETH also created history in terms of value and market capital. It started the year with $7.98 per ETH and a market cap of $698 million. By the end of year it was valued $760.35 per ETH and a market cap of $68 billion and recording all time high $881 on Dec 19, 2017.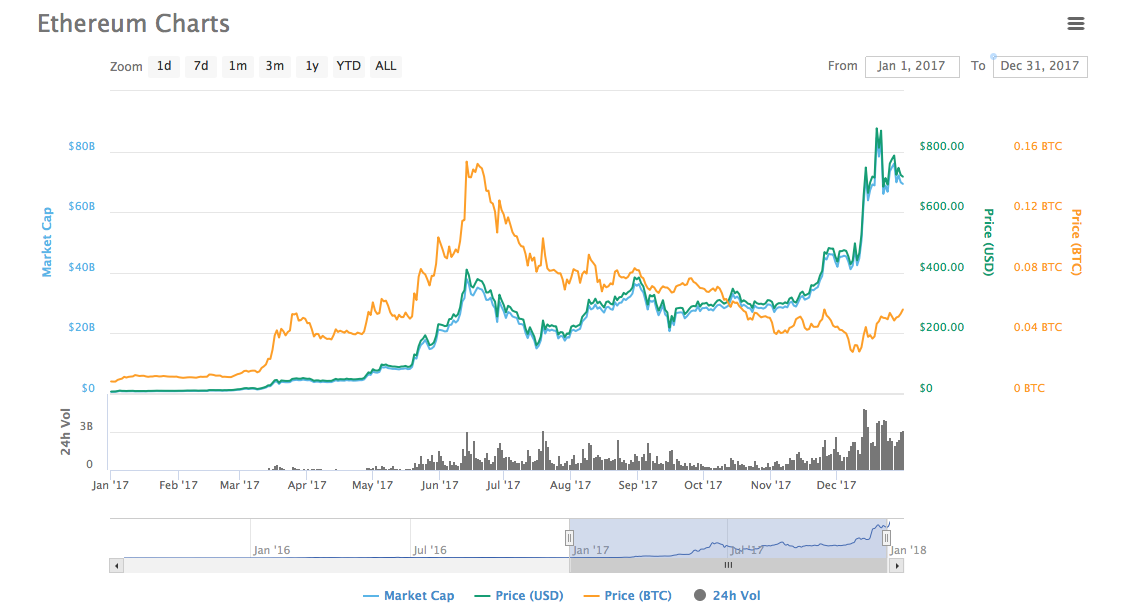 Q4 Round Up
Ethereum Foundation is transparent with its community. Today, team published the Q4, 2017 round up to provide the status of project and its progress with its various clients.
Highlights of the report are:
Casper
* A Casper proof of stake testnet based on pyethereum has been released.
* Various simplifications to the algorithm, including the reduction to one message type, have been finalized (also updated the accountable safety proof in Isabelle).
* The Casper FFG basics paper has been released.
* See presentations (i) and (ii) from Karl Floersch on Casper FFG, and (iii) from Jon Choi on cryptoeconomics; see also this explainer of Casper by Jon Choi.
Sharding
It is a comprehensive report. Readers can also find update on Py-EVM, EIPs (Ethereum Improvement Proposals), Formal Verification, Testing, Remix, Solidity, Security, Python Ecosystem, Ethereum-Tester, Web3.py, EthereumJS ecosystem, Web3.js 1.0, eWASM (Ethereum WebAssembly), C++ Ethereum, Geth, Mist, Swarm and Whisper here.
Ethereum scalability research and development subsidy programs
In an another announcement made by Vitalik Buterin, while foundation aims to continue to focus heavily on research and specification, they do not want to ultimately "win" the competition for which client gets the most actual users once the network goes live. They want the Ethereum sharding testnet, and later sharding mainnet, to be a multi-client ecosystem right from the start, with the Ethereum Foundation not supporting any single privileged production implementation. It is decided to invite more participation of users and to make Ethereum more decentralized. Parallely, The Ethereum Foundation-funded research team will continue to build an implementation in python and possibly other languages.
According to the Sharding client subsidy program of Ethereum,
"The Ethereum Foundation will be making subsidies available to independent groups in the community that want to help build an implementation and participate in the sharding testnets and mainnet."
These payments are NOT intended to be sources of substantial profit to recipient organizations; they are rather intended to cover some of the costs involved, with the understanding that anyone who participates in the scheme will have access to a unique opportunity to participate in Ethereum 2.0 development, with close collaboration with core Ethereum researchers, and be part of the development of one of the first clients that will be available when the sharding mainnet goes live.
Subsidy amounts of $50,000 up to $1,000,000 will be available, and possibly more for highly successful projects; the size of the subsidy will take into account the quality of the team, the scope of the proposed implementation, and the progress of the project over time. Participants will interact closely with the core research team, and will have a key role in shaping the final specification that gets developed over the course of implementing the spec and running the test networks.
Another program Layer-2 scalability solution subsidy program announces a subsidy scheme for projects that are building scalability and latency-reducing "layer 2" platforms that live on top of Ethereum, benefitting from the Ethereum blockchain's security as a base layer and interoperability with the greater Ethereum community and platform.
This will take the form of a specialized grant program, and subsidy amounts of $50,000 to $1,000,000 will be available depending on scope, scale and quality. The subsidy may be available even if the project has an independent business model, or funding from potential other sources in the Ethereum community, though we will prioritize funding projects that otherwise lack ability to sustain themselves, and it absolutely must be the case that the work funded is open source from end to end and provides a common good to the Ethereum ecosystem.
If you are a developer and interested, you can apply by sending an email to apply@ethereumresearch.org, with the following information:
Official name of project, applicant and core developers
Further information on the team, including previous activity if any in the Ethereum or blockchain space or distributed systems, mechanism design or cryptography
Proposal and impact on scalability
Estimated timeline for development milestones and completion, request for grant amount and estimated total overall budget
If Ethereum oundation are sufficiently interested, they'll proceed from there with requests for further information. For details, please read here.
Ethereum Foundation website redesigning
By the end of 2017, Ethereum Foundation announced the most awaited update of the Ethereum official website and documentation.
Ether reached ATH, regained #2 position for some time
Ethereum gets a spectacular beginning of the year 2018. Ether, the decentralized token of Ethereum Blockchain recorded another all time high $914 on January 2, 2018. With a total market cap of more than $88B, it pushed Ripple (XRP) and restored #2 position in cryptocurrency for some time. The current price of ETH is $890 at the time of writing this post.

Data source: Coinmarketcap.com
Also read: It's still not late to invest in Ethereum Blockchain Technology
This is just the beginning. We hope to see many more success coming up with the project in 2018.
Try our new Digital Asset Calculator to keep track of rates of your favorite currency and net asset value of your investment. Please email your suggestion at contact@etherworld.co to improve this utility.
Disclaimer: This is not an investment advice. Readers are suggested to do their own research before investing into any project.
Follow us at Twitter, Facebook, Google+, Steemit and Medium. For weekly newsletter, subscribe here. For publishing Press Release and free listing of ICO at our website, email at contact@etherworld.co.
---
---