Filecoin, a blockchain project of decentralized storage network with a native protocol token is finally done with its month long token sale. They created a new all time record in crowdfunding by raising $257 million in ICO.
Filecoin token sale originally started from August 10, 2017; within an hour of sale, they raised about $190 million and ICO had to be paused because CoinList, the website hosting crowd sale, experienced massive load, in terms of pageviews, users watching live, and transaction volume. They received overwhelming response at pre-sale as well, where they raised about $52 million. Filecoin ICO was finally completed yesterday raising record funding for a start-up of about $257 million including pre-sale funds.
Filecoin ICO was strictly following the guidelines issued by The Securities and Exchange Commission (SEC), still we couldn't see any less crazy ICO. The fund raised is highest so far. If we consider few ICOs that took place this year, we will see the trend is just increasing. The increase in fund made available to the startups will amaze you. (Fund raised is evaluated based on the value of ETH at the time of ICO).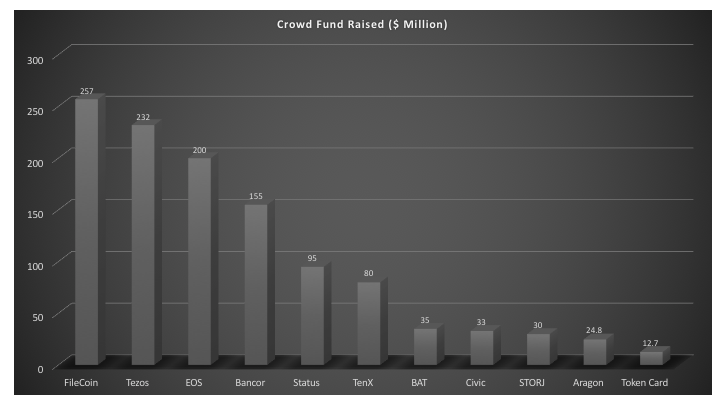 Considering the enormous growth in user's contribution to the start-ups, government and agencies are trying to regulate the unregulated market of cryptocurrency, that sounds contradicting in itself. China even declared Crowd funding illegal in the country. It is difficult to say that these regulations are to limit users from participation or to make it more tempting. Nevertheless, despite immense efforts of regulatory bodies, the graph clearly shows that the vision of cryptocurrency of making public as bank is not very far from reality.
For more updates, technical blogs and general discussion on Blockchain Technology and Ethereum, please join us at our Website, reddit, Facebook, Medium, steemit and follow us at Twitter. Please feel free to share this post, email us with your suggestions and connect at LinkedIn.
---
---